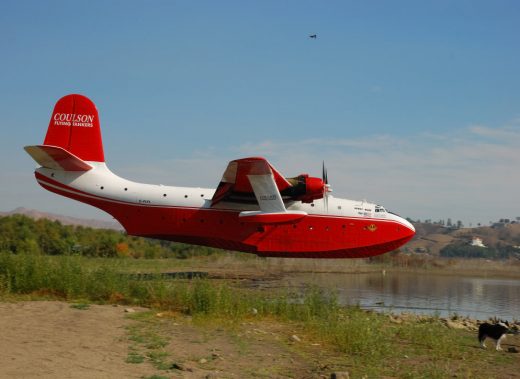 Coulson Flying Tankers' Hawaii Mars will make its first appearance at EAA AirVenture in July.
The huge flying boat will stage out of Lake Winnebago for flight demonstrations during the world's biggest airshow.
"This is the last flying Mars in the world and the largest warbird ever built," said Wayne Coulson, chief executive officer of Coulson Flying Tankers. "There isn't a better aviators' venue than EAA AirVenture, so it's an honor to be part of this world-class event. We're very excited to bring the Hawaii Mars to Oshkosh as we look for new opportunities and host potential clients, as well as showcase this magnificent airplane's capabilities."
Coulson's contract with the B.C. government for firefighting services was terminated in 2014 but the aircraft, which can scoop 7,200 gallons of water from body of water for dropping on a fire, was briefly pressed into service during the intense 2015 fire season.
Coulson has kept the aircraft busy by training flying boat pilots from China, which is building a fleet of large offshore amphibious aircraft.
The Hawaii Mars is the last of four of the aircraft still flying although a flyable aircraft is in storage at Coulson's Port Alberni, B.C. headquarters pending a deal to send it to U.S. Naval Aviation Museum in Pensacola, Florida.