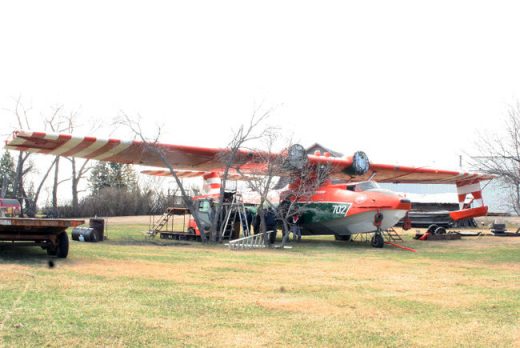 The Fairview Aircraft Restoration Society is nearing completion of the ex-Buffalo Airways Canso it has been rebuilding for the past few years.
And in Victoria, B.C., the Catalina Preservation Society has almost completed installation of blister windows in its big flying boat, which returned to the air last summer.
The Alberta group has re-attached the wings on the amphib and will soon mate engines it obtained in a swap with a Nova Scotia town to the virtually complete airframe.
The Fairview group salvaged its Canso from the shore of a lake in the Northwest Territories where it crashed years ago. The aircraft was moved overland and by barge to Fairview a few years ago.
Once airborne, the aircraft willl be used as a flying museum to explain its role as a rescue and patrol aircraft in the Second World War.
The Victoria aircraft was an RCAF search and rescue platform and went on to toil as a transport and air tanker aircraft for more than 40 years in civilian service. Addition of the blister windows will restore it to its original configuration.