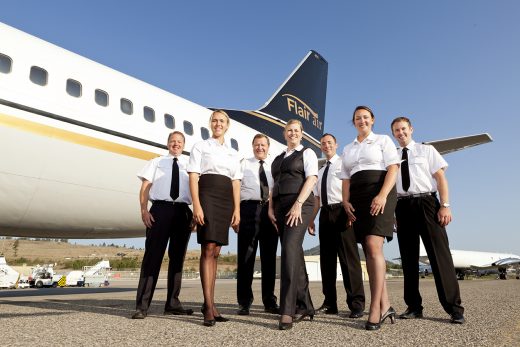 The new owners of New Leaf Travel have changed the name to reflect the new circumstances. Flair Air bought the fledgling travel booking site June 7 and has named it Flair Airlines.
"We are starting a new chapter in the airline industry. Today we celebrate a significant milestone of successfully reaching our 1 year mark, and we are excited to now move forward with a new brand that better reflects who we are as one unified company," said Chris Lapointe Vice President, Commercial Operations, Flair Airlines.
Flair is based in Kelowna and flies Boeing 737-400 aircraft, mostly as charters and leases to other carriers.
New Leaf was one of its clients as it tried to launch an ultra low-cost airline modeled after Spirit Airlines in the U.S. Spirit charges extra for anything beyond a seat and a seatbelt booked and paid for online. All other services trigger extra charges.
Lapointe said expansion plans are going ahead. "We are focused on growing not only our destination list but are also widening our view of the travel industry as a whole," Lapointe said. "We look forward to sharing more information regarding these offerings in the coming weeks."