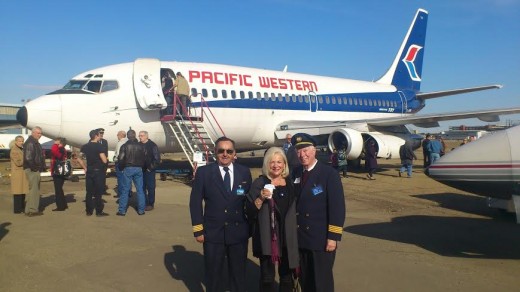 The emergency exit door and some other parts were stolen from the Alberta Aviation Museum's Boeing 737 last weekend and they're likely headed to the black market.
Museum staff discovered the theft earlier this week but were initially confused by the wanton destruction of the interior of the aircraft. Museum spokesman Thomas Hinderks said the vandalism was an apparent attempt to disguise the true nature of the crime.
Police determined that thieves wearing latex gloves very carefully dismantled and examined several high-value components of the aircraft, which was in flying condition at the time. They made off with the over-wing emergency exit door, which would cost up to $20,000 to replace.
The aircraft was donated to the museum by Pacific Western Airlines when it, along with most other 200 series 737s were retired and replaced with more fuel-efficient and quieter aircraft. There are still many in service around the world, particularly in less developed countries where noise restrictions are more relaxed (or non-existent).
Several Canadian airlines operate them on northern routes because they're the only 737s certified to use unimproved runways.
Police aren't saying what parts besides the door were taken or where they might have gone. They did say they were "structural, support and electrical" items all carefully and properly removed.
The museum wants to restore the aircraft to operational shape, even though it never plans to fly it again. It was put in flying condition by volunteers in 2013 so it could be flown from the former Edmonton City Centre Airport to the museum's new home when the Edmonton airport was closed for good.