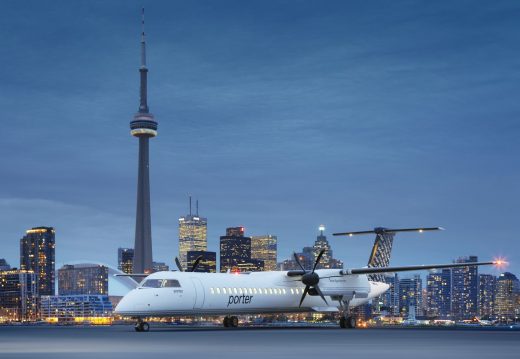 On the tenth anniversary of its disruptive entry to the Central Canada airline market, Porter Airlines is looking at modest growth with an emphasis on existing markets.
By now, CEO Robert Deluce had hoped to have approval to fly Bombardier CSeries jets from Billy Bishop Airport in downtown Toronto but last November's federal election at the very least postponed that plan. Shortly after the election, new Transport Minister Marc Garneau announced there would be no changes to operations at the airport, which now bans all jets except air ambulances.
"We've kept our CSeries conditional order in place, leaving those deposits with Bombardier. Don't read too much into that," Deluce told the Toronto Star.
"We'll wait until there is a better climate to talk about CSeries in the future, if that opportunity presents itself," he said.
Deluce said he's buying three more Q400s, bringing the fleet to 29. He owns the airplanes outright thanks to the sale of the terminal building, which he also owned outright.
The new aircraft will add maintenance flexibility and more capacity at peak times but there will be no route expansion.
"Our growth now is in a different form, and it will work well," Deluce said. "It's slower growth. But it's good growth."
The new owners of the terminal are expanding it by 27,000 square feet adding retail space, food and beverage service and bigger lounges.