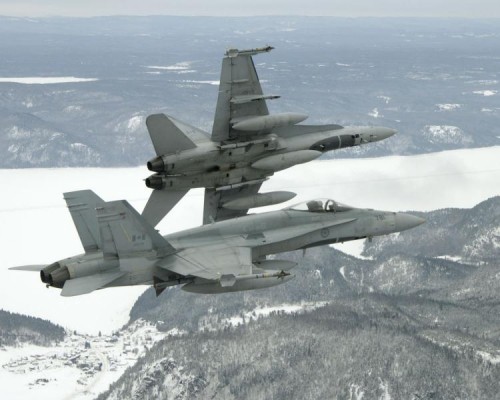 The Department of National Defence has released its Acquisition Guide last week and the document suggests no contract will be signed for a replacement for the RCAF's CF-18s until at least 2018. But Defence Minister Rob Nicholson says the guide is just that and the cabinet will decide when and how the aircraft will be replaced.
Nicholson's Press Secretary Johanna Quinney told the Globe and Mail the DND wish list is "subject to change in terms of scope, cost and schedule including termination without any further explanation or liability".
"No decision has been made on the replacement for the CF-18 fighter jet fleet."
There is speculation the Cabinet will simply ignore the DND document and decide on the future of the fighter replacement project soon, maybe as early as next week. The decision in front of the Cabinet is whether to proceed with a sole source contract with Lockheed Martin as part of its participation in the  F-35 Joint Strike Fighter program or to launch a full competitive bidding process.
The DND document does refer to a "request for proposals" to be issued in 2017 with a contract award in 2018. That could push the first deliveries of the replacement fighter to 2020 or beyond, which would mean the CF-18s would need a life extension refit.
Also complicating the issue is the fact that, as part of its agreement with Lockheed Martin, Canada must start making payments toward its purchase of 65 aircraft this year to ensure deliveries start in 2018.