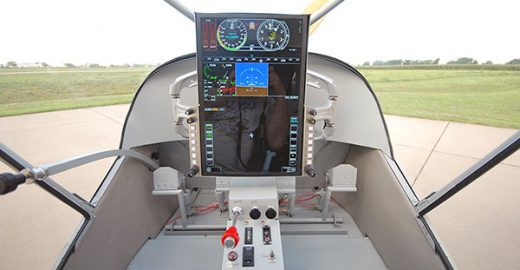 Zenith Aircaft has done away with the traditional aircraft control panel in favour of a single large flat screen in its latest design.
The STOL CH750 Super Duty was introduced at AirVenture 2017  and has been turning heads at the show.
"The STOL CH 750 Super Duty (SD) is an expansion on the popular two-seat STOL CH 750 light-sport aircraft, but offers increased load (and corresponding increased gross weight), the addition of a "jump seat" in the large rear cabin area, and new engine choices for maximum short take-off and landing (STOL) performance," the company said in a news release.
The flat panel, developed by Avilution, is available as an option for kit builders and adds a lot of extra space to the cockpit.
"By removing the traditional instrument panel bulkhead from the cabin area of the already roomy CH 750 fuselage, the forward half of the cabin feels more like a helicopter, including helicopter-like visibility," the company said.