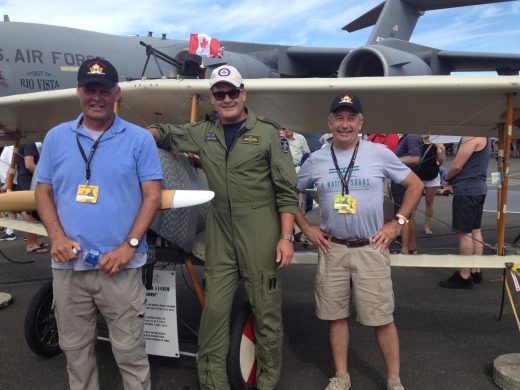 The RCAF will lend major support to an aerial tribute to one of the most important battles in Canadian military history.
The Air Force has agreed to load six replica First World War fighters on a C-17 cargo plane to take them to France so they can fly over the ceremony marking the 100th anniversary of the battle of Vimy Ridge.
"We're very gratified by the support from the Air Force," said Allan Snowie, team leader for Vimy Flight in an interview at the Abbotsford Air Show Aug. 13.
Lt.Gen. Mike Hood, the commander of the RCAF, stopped by the Vimy Flight booth at Abbotsford to confirm the support.
The aircraft, four factory-built 7/8 scale Nieuports and two full-sized Sopwith Pups that are being built with the help of air cadets at the Canadian Museum of Flight in Langley, B.C., will be flown from Comox to France in time for the April 9 ceremony.
The six aircraft, all types flown by Canadian pilots during the battle, will fly over the ceremony and also do several other flights before and after the actual commemoration.
Vimy Ridge was a pivotal battle in the First World War and is considered a turning point in Canada's ascension to the world stage as a country.
After the ceremonies, the aircraft will be flown to Halifax to begin a  five-month cross-country tour that will include a flight over the Parliament buildings on Canada Day. A total of 10 pilots, all of them ex-military, including some members of the Snowbirds, will fly.
Snowie said the purpose of the ambitious effort is to bring the importance of Canada's war contributions home to people across the country.
"This will bring Vimy to life," he said.