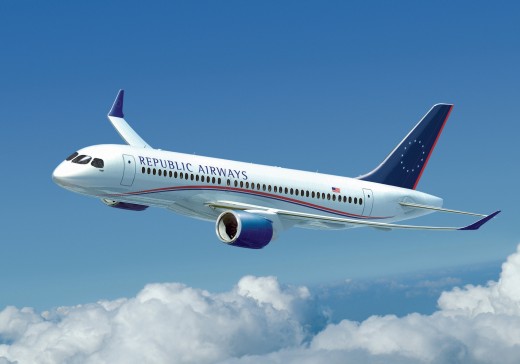 Republic Airlines has apparently decided to adopt a single type fleet as part of its restructuring plan and that doesn't seem to include the Bombardier CSeries.
In its filing to the bankruptcy court, which it made last Thursday, the U.S. regional airline contractor said it planned to "streamline" operations around the Embraer 170/175 aircraft.
In 2010, the airline placed a firm order for 40 CSeries but those were originally intended for Republic subsidiary Frontier Airlines, which it has since sold. The CS300s it ordered are too big for the regional shuttle service it's now concentrating on.
Bombardier is keeping a brave face about the news, saying it still considers the order firm. However the bankruptcy court can issue a ruling that would allow Republic to cancel the order without penalty.
Republic was the only U.S. carrier to place an order for CSeries.