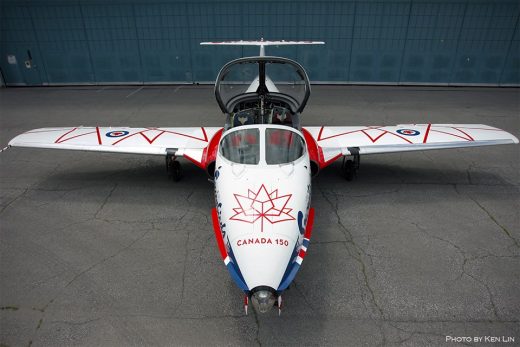 Just in time for the traditional Parliament Hill flypast on Canada Day, the RCAF unveiled a specially painted CT-114 Tutor celebrating 150 years of confederation.
The Tutor is resplendent in maple leaves and other Canada 150 regalia. Canadian Aviator photographer Ken Lin was one of the select media reps invited to the unveiling and filed this report on our Facebook page, where you can also see more photos.
Canadian Aviator contributing photographer Ken Lin recently took the following images of the "Canada 150" theme CT-114 Tutor jet as it was being readied for the ferry flight from CFB Trenton in southern Ontario to the 431 Sqn Snowbirds home base in CFB Moose Jaw, SK.
Sqn CO Lt. Col. Brad Wintrup and Sqn WO MWO Greg Fleet were the aircrews flying this beautifully painted jet home, which will be used to support smaller venues or dates where the nine-ship formation cannot attend during the celebration of Canada's 150th birthday this year.
While the topside of the aircraft has simple yet elegant designs, the bottom of the aircraft is painted with 150 maple leafs to symbolize the 150th birthday of Canada, it will be very visible from the ground even during level flights.