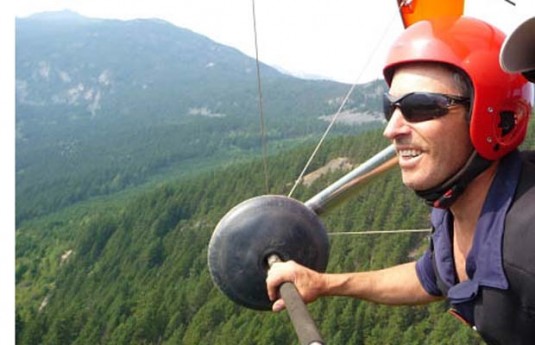 Three groups representing hang glider and paraglider pilots in British Columbia and across the country have been named in a lawsuit resulting from the death of young woman who fell from a tandem hang glider two years ago.
The parents of Lenami Godinez Avila have file a broadly based suit seeking damages on behalf of their daughter and for the suffering they experienced when she dropped 300 metres from the aircraft after it launched from a mountain near Agassiz, B.C., about 100 km. east of Vancouver.
Avila was on her first flight, an relationship anniversary gift from her boyfriend, with Jon Orders, an experienced hang gliding instructor. Orders didn't attach Avila's harness to the hang glider and she slipped off his back shortly after launch. Orders has since been sentenced to five months in jail for criminal negligence causing death. After landing the hang glider, Orders swallowed a video card from an onboard camera that recorded the flight but charges of obstruction of justice were dropped after he pleaded guilty to the criminal negligence charge.
The card was recovered several days later and the video, which was shown in his court case, showed him trying to clip her harness to the aircraft after launch.
The suit also names Orders' partner in the business, Shaun Wallace, along with the Hang Gliding and Paragliding Association of Canada, the British Columbia hang Gliding and Paragliding Association and the West Coast Soaring Club. Avila's parents allege the groups didn't ensure proper training and standards for commercial operators and didn't warn the public of the hazards of the activities.
"The defendants … knew or ought to have known of the reasonable possibility of causing severe physical harm to persons such as Lenami Godinez by their actions and/or inactions. This demonstrated a callous disregard for public safety," the lawsuit says. 
Orders has quit flying and has publicly apologized several times for his role in the accident.