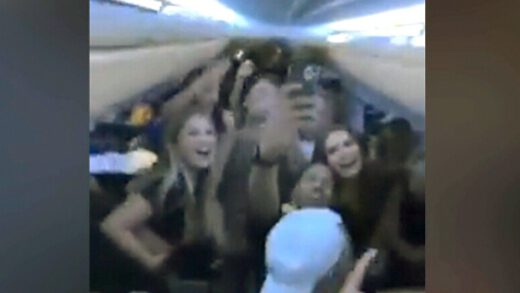 Some passengers aboard a chartered aircraft heading to celebrate New Year's Eve in Cancun could face criminal charges when they make their way back to Canada after a much-publicized booze cruise to the Mexican resort city. At least two are commercial flight students and Transport Canada has confirmed it is investigating whether their viral video behaviour on the flight will affect their certification chances. Others have been fired by their high-profile employers.
A Montreal company named 111 Private Club arranged the charter of a Sunwing Boeing 737 for about 150 people. Some of those on board were Quebec media and online personalities. Shortly after the flight, videos appeared online showing a party atmosphere on the aircraft with open drinking, dancing and vaping. The videos caught the attention of Prime Minister Justin Trudeau, who called the behaviour a "slap in the face" and since then the full weight of the federal government has come down on the airline and the passengers.
There is now discussion of some of the passengers facing jail and huge fines of up to $100,000 for their behaviour on the flight. Sunwing didn't terminate the departure flight and delivered the mostly well-heeled customers to Cancun. It announced early this week that it had refused to go and pick them up, citing a disagreement over the terms of the return flight. Air Canada and Air Transat have refused to fly any they can identify back to Canada. Nevertheless at least 27 have made it back by using other airlines and they were all met at the Canadian port of entry  by government officials who, in the words of Health Minister Jean-Yves Duclos, "interrogated" the passengers and tested them for COVID.
Meanwhile, more than 100 were still in Mexico as of late Friday, about a third of them positive for COVID and quarantining there. Not all the people on board were rich and famous. Some were contest winners and staff members who found themselves faced with buying full fare tickets through the U.S. to get home and an uncertain fate when they get there. "I was expecting a relaxing week, where I was going to be careful," 19-year-old Rebecca St-Pierre, who won an Instagram contest, told the Globe and Mail . "But this turns out to be an expensive trip for something that was supposed to be free."