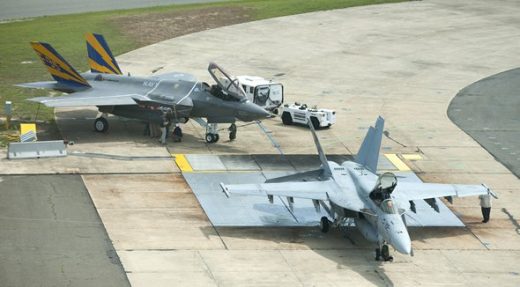 Canada will get its first of 18 Boeing F/A-18 Super Hornets in 2019 but the fourth generation fighters might not look like much of a bargain by that time according to a CBC report.
The Super Hornets are expected to cost as much as $120 million each, depending on how they're equipped according the network.
But now that U.S. President Donald Trump is claiming he's talked Lockheed Martin down to about $111 million for an F-35, the cost-benefit analysis looks a little more complicated.
The Liberal government cited cost as a major factor in its decision to buy Super Hornets as a "stopgap" to fill out its fighter squadrons. Military leaders have said they don't really need the jets as long as there's a firm plan to get permanent replacements soon.
With the much more modern and stealthy F-35 in the same price range as the Super Hornets, coupled with the guaranteed industrial offsets included with Canada's participation in the F-35 program, the 18 Super Hornets may actually be more expensive.
Defence Minister Harjit Sajjan said the final cost of the Super Hornets will be clearly explained. It's estimated that by the time ongoing maintenance costs are included the program will cost up to $7 billion over its life.