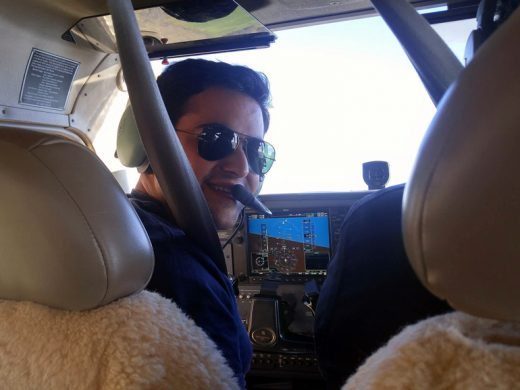 An Iranian student pilot training in Manitoba has been caught up in U.S. President Donald Trump's immigration ban.
Bardi Salimkhani was due to go on a long cross country flight through the U.S. with his aviation degree program classmates at Providence University College, a Christian post secondary school  in Otterburne, 50 km. south of Winnipeg.
It's a mandatory part of the school's curriculum but Salimkhani is an Iranian citizen. People from Iran and six other predominantly Muslim countries have been temporarily banned from entering the U.S. thanks to an executive order signed by Trump last week.
"It's definitely stressful being so close to graduation and that's the only requirement I have left," he told the Winnipeg Free Press. "It was really unexpected."
Salimkhani went to the U.S. consulate in Calgary in early January to get the necessary visas to make the trip but all of those approvals have been cancelled.
On the trip, the students fly to Texas and then return by going up the west coast of the U.S.
"What you learn from this trip is you fly through every American air space," he said from the school in Otterburne, 50 kilometres south of Winnipeg. "It's a great learning experience and I've waited four years for this opportunity," said Salimkhani.
School officials are now trying to figure out how to get Salimkhani the credits he needs without going on the trip but criticized the Trump regime for its action.
"As a Christian academic community in the evangelical tradition, we strive to exemplify the gospel of grace by upholding the dignity of, showing respect to and serving all people regardless of race, religion or culture," the release said.