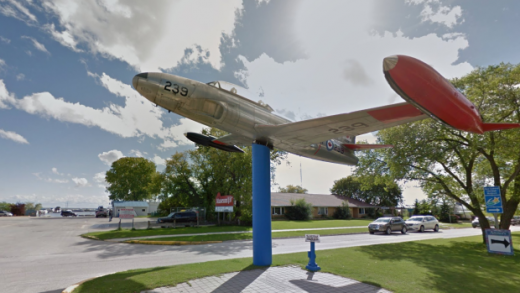 It's not often that an aircraft that hasn't flown for 40 years is involved in a collision but the T-33-on-a-stick in Gimli, Manitoba has been grounded for repairs.
A construction vehicle clipped one of the wingtip fuel tanks and the city has taken the aircraft down temporarily while it figures out how to fix it.
The T-bird has been displayed since 1971 when the federal government closed Gimli Air Force Base. Gimli was a major training base for the air force and the T-33 was one of the last aircraft used there.
The historical significance of the base has prompted the city to ensure the aircraft is returned to a place of honour.
"People want to see it back. It's something that's part of our history. It's part of our community," Gimli Mayor Randy Woronium told the CBC. ""We're going to endeavour to try and get it back as soon as we can."
A local tradesman is going to try to fix the tank but failing that Woroniuk said he's willing to go some distance to ensure its properly repaired. He may go to an aircraft boneyard in the Mojave desert to get a fuel tank from a T-bird still in storage there.