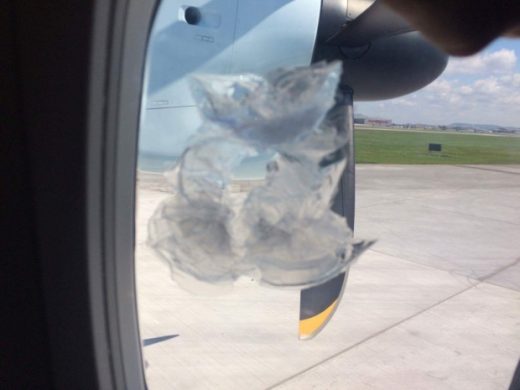 Jazz Aviation says ice was the likely culprit in damaging a window on one of its Bombardier Q400s last week.
Passengers aboard the flight from Charlottetown to Montreal were rattled by a loud noise during the flight. Window seat passenger David Smith said he lifted the shade just in time to see the ice smack the window, damaging the outer pane.
It's likely the ice was flung from the number one engine propeller, which Jazz spokeswoman Terri Udle told the CBC is a "rare occurence" but one the aircraft designers anticipated.
"The aircraft was a Q400 and is designed with a protective ice shield on the side of the aircraft to prevent damage to the fuselage of the aircraft," she said. "The window affected is designed with the same structural integrity and, therefore, limited the damage to the outer pane."
The window was replaced and the aircraft returned to service.