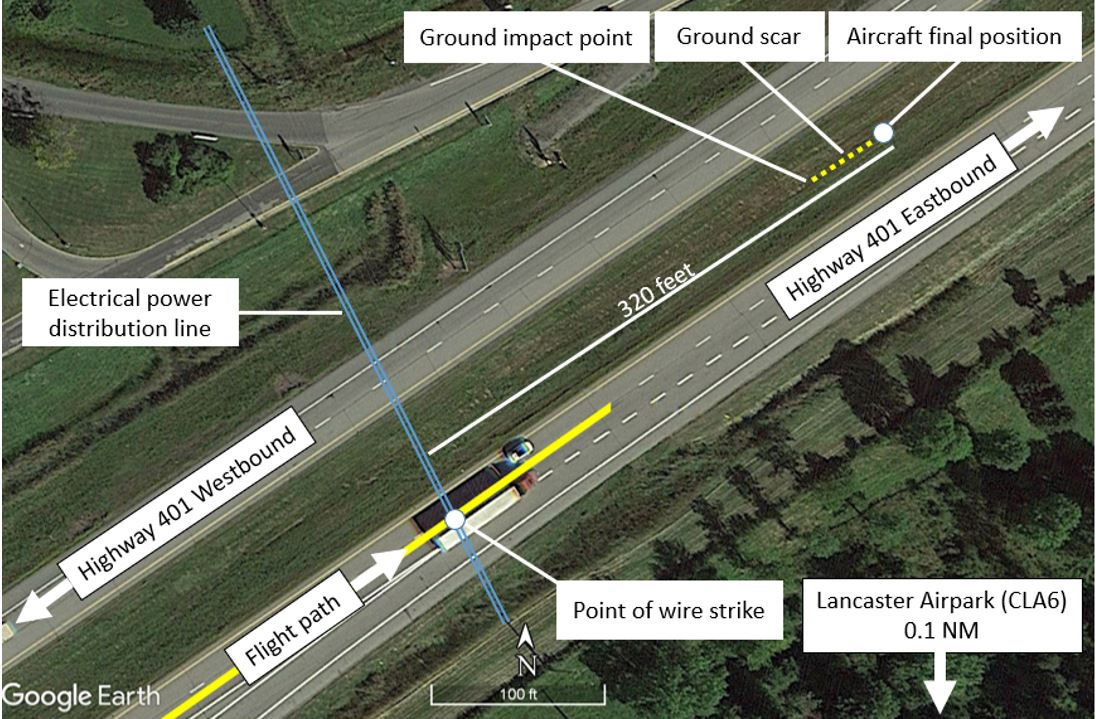 The Transportation Safety Board released this week its investigation report into the crash of a 1967 Cessna 150 that occurred the night of December 5, 2022. The pilot was attempting an emergency landing on the eastbound lanes of Ontario Highway 401 after experiencing an engine power failure. The aircraft struck powerlines that crossed the highway and crashed on the highway median. The pilot and his passenger received serious injuries.
The investigation revealed that the pilot, who was seated in the right seat, had a glider licence and a commercial pilot licence with a multi-engine rating for airplanes, the latter licence in July of 2022. He had logged 417 hours of flight time with 72 hours at night. Although the pilot had flown the requisite five takeoffs and landings within the previous six months in order to carry passengers, he had done so in multi-engine aircraft and the CARs require that recency requirements have been done in an aircraft of the same class of aircraft (i.e., single engine).
Further investigation revealed that the aircraft, which was owned by the unlicensed passenger, was uninsured, the policy having lapsed months before. Inspection of the aircraft's journey log revealed that the last recorded annual inspection occurred on May 24, 2021, and that, although subsequent maintenance was performed later, not all items that are required during an annual inspection were performed.
The TSB report suggests that the power failure may have been due to carburetor icing as the conditions at the time were conducive to its formation. The complete TSB report can be found by clicking here.