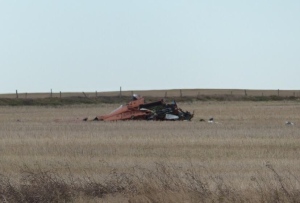 The Transportation Safety Board is investigating two fatal helicopter crashes in Saskatchewan last week.
Icing may have been to blame for the crash of a helicopter (type unknown) that went down near Kinley, Sask. Oct. 27. The pilot apparently reported "severe icing" before the aircraft disappeared from radar.
The unidentified pilot was from Calgary and was on his way home from Saskatoon.
In the other crash, two men were killed when their helicopter crashed on an island in the North Saskatchewan River in western Saskatchewan.
The two occupants of the aircraft, a 55-year-old male pilot from Campbell River, B.C. and a 30-year-old male passenger from Prince Albert, were reportedly doing power line maintenance when the accident occurred.