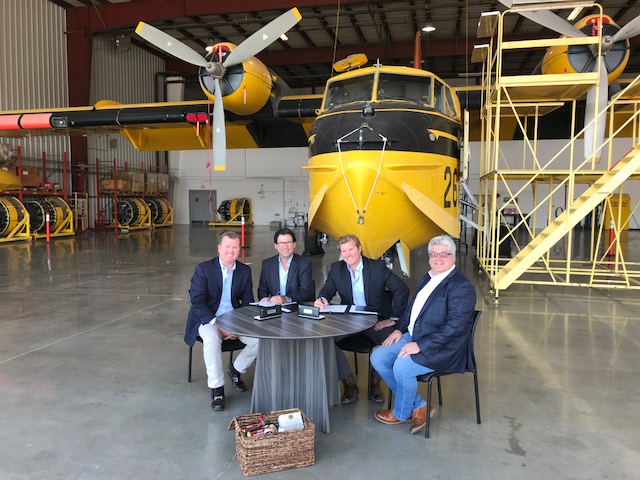 Viking Aircraft (officially now known as Longview Aviation Asset Management (LAAM)) has sold five CL-415 "Enhanced Aerial Firefighter" aircraft to Bridger Aerospace, of Bozeman, Montana. Viking bought 11 CL-215 firefighting aircraft to turn into the new planes. The CL-215 was the original Canadair amphibious waterbomber and used Pratt and Whitney radial piston engines. Those and all the other 1950s-era technology will be stripped from the airframes and replaced with modern components that will make the aircraft comply with so-called "failsafe" certification criteria that means they will have no preset life limit.
"We are pleased to be the launch customer for LAAM and Viking's new Enhanced Aerial Firefighter aircraft program," said Bridger President Tim Sheehy. "Bridger has continually positioned itself on the forefront of next generation aerial firefighting techniques and this is yet another step in that direction." Sheehy also noted that wildfires are a rapidly expanding problem in the U.S. and new methods and tactics are needed to combat the threat. LAAM COO Rob Mauracher said cracking the U.S. market is big for his company.  Bridger's recognition of the benefits offered by an amphibious aircraft to protect the environment and local communities throughout the United States is a key indicator of the suitability of the CL-415EAF for the US firefighting market, and we look forward to working together in the development of these aircraft." Bridger will get its first aircraft in time for the 2020 fire season.
Assuming the aircraft perform well and other companies start buying them, the next step could be a clean-sheet version called the CL-515 "next generation multi-purpose amphibious aircraft." The conversion program will create about 200 jobs, mostly in Calgary but the new-build aircraft would create many more positions and enhance Viking's position as an OEM. It currently builds new Twin Otter 400 Series aircraft in Victoria and Calgary.