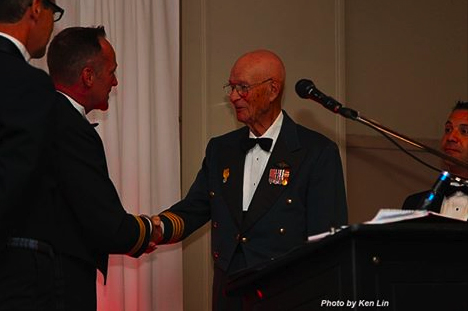 A Cold War fighter pilot who helped lay the foundation of Canada's proud air demonstration team heritage was inducted into the Honourary Snowbird Society last week.
Lt. Col. (retired) Fern Villeneuve was the team lead for the Golden Hawks team, which used F-86 Sabres painted in distinctive gold livery. He was inducted along with Honourary Colonel John Melbourne and the former Honourary Colonel of the Snowbirds Michael Potter, owner of Vintage Wings.
The Golden Hawks were known for their aggressive low level routines that awed crowds in the late 1950s and early 1960s. They were disbanded for budget reasons but when the RCAF acquired the cheaper-to-run Tutors the momentum was still there to create a demo team.
Villeneuve was team lead for the first two seasons of the Golden Hawks but had to leave the team after he got married because the rules at the time stated that married pilots could only do two seasons with the team.
Villeneuve flew all of Canada's Cold War fighters and was a squadron leader three times. He continued flying his Globe Swift long into retirement and is well known among fans of that aircraft.