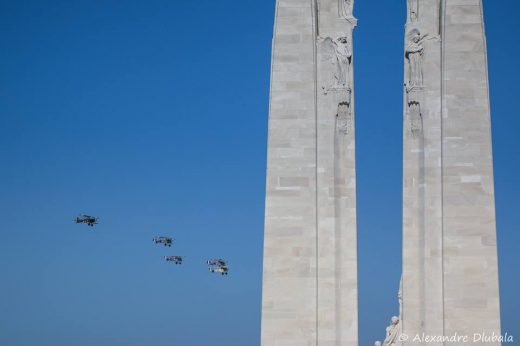 Five replica First World War biplanes flew around the Vimy Monument in France on April 9 as part of a huge ceremony commemorating the 100th anniversary of the epic battle.
The aircraft, four Nieuport 11s and an SE-5, duplicated an honour flight that took place in 1936 marking the dedication of the monument.
After Sunday's flight, Lt. Gen. Mike Hood, commander of the RCAF, presented the five pilots and four support personnel in France medals commemorating their historic flight.
Those receiving the medals were Allan Snowie, Dale Erhart,B Rent Handy,  Peter Thornton, Larry Ricker, Paul O'Reilly , David Wilson , Al French and Will McEwan.
With the Vimy flight behind them, the group now has to disassemble the aircraft and load them aboard a C-17 for transport to Greenwood, Nova Scotia, where they'll begin a cross-Canada educational tour.
Although much of that trip will involve appearances at high schools and halls across the country, there will be at least one more high-profile flight.
The biplanes will join the Snowbirds for a flight over Parliament Hill on Canada Day.
The main thrust of the cross-Canada mission is to educate Canadians about the importance of the Battle of Vimy to the evolution of Canada as a nation.
It was the first time Canadian troops had gone to battle as a unified force and not as part of British-led operation.