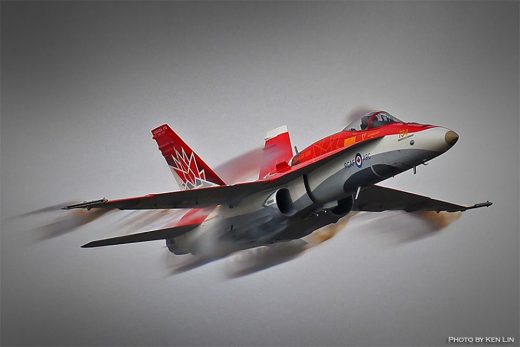 The RCAF is putting its air demonstration teams through their paces in Comox, B.C. this week as they get ready for the six-month air show season.
The Snowbirds and CF-18 demo teams typically spend a couple of weeks on normally-balmy Vancouver Island in April to put the final touches on their routines before hitting the road.
The weather has been rainy and cold, with some warm sunny days, but the flying goes on and our photographer Ken Lin has found ways to get some spectacular images because of, rather than in spite of, the challenging conditions.
The newly-painted CF-18, sporting a red and white Canada 150 theme, has been a show stopper for those who gather at the observation areas around the base to watch the shows come together.
The intricate design came from Jim Belliveau, who has been the brainchild behind the elaborately painted fighters for more than 10 years. See more photos on our Facebook page.