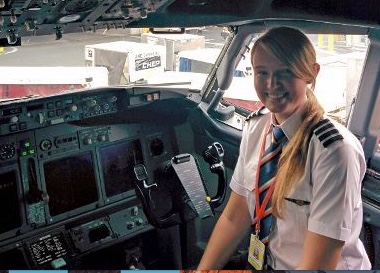 A Prescott, Ontario woman has become the youngest female Boeing 737 pilot in Canada after she took the right seat of a Sunwing aircraft earlier this year at just 22.
Siobhan O'Hanlon was among a graduating class from the University of Waterloo to benefit from a partnership with Sunwing. She graduated the program with Bachelor of Science in environmental studies and a multi-engine IFR licence last July.
Sunwing then took over the training and after six months of intensive work, O'Hanlon began flying revenue flights to the Caribbean and Mexico early in the New Year.
"It's pretty surreal to realize you're in control of a large aircraft like that," she told the Brockville Recorder.
The joint program is one of several that are now pumping pilots into various Canadian airlines which were beginning to feel the effects of the pilot shortage.
O'Hanlon said she's enjoying the whirlwind lifestyle she's adopted and hopes to serve as an example to other young women looking for an aviation career.
"There's not that many women in the industry so it's nice to encourage them not to be afraid to join the industry and let them know there are opportunities," she told the Record.
"It's totally doable nowadays and there are a lot of opportunities out there."