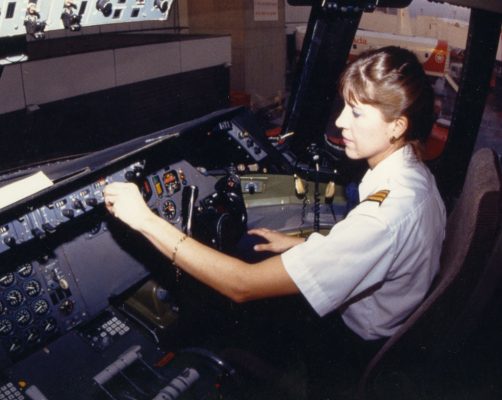 The East Canada Section of the Ninety-Nines have selected long-time Air Canada pilot Judy Cameron for their ninth commemorative postage stamp done through Canada Post's Picture Postage program. The stamps can be used as regular letter postage within Canada.
Cameron was the first female pilot to be hired by Air Canada and started in 1978. She retired last year and  lives in Oakville with her husband Ron Swaisland, also an Air Canada pilot. She has two adult daughters, born to Judy and her first husband early in her career with Air Canada.
Cameron is the epitome of "breaking the mold". After graduating from Selkirk College's aviation program, she worked for several different aviation companies, and eventually earned her way into a cockpit. She first worked as a dispatcher when the company directors vetoed a female pilot flying company aircraft. Next she was a reservations agent who doubled as co-pilot with no training, when Twin Otter and Kingair trips required a co-pilot. Then she was a DC-3 co-pilot and Aztec/ Cessna 180 Charter Pilot with minimal training and flew poorly maintained equipment with a company which went bankrupt. One chief pilot agreed to hire her because the "airlines will never look at you" and she mostly flew charters in a DC-3.
Cameron continued to apply to airlines and on April 10, 1978 Air Canada hired their first female pilot. She was well accepted by Air Canada's other pilots, likely because of her flying experience.