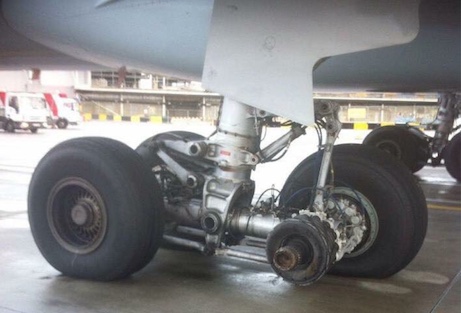 Ground crews at London's Heathrow Airport were surprised to find an Air Canada A330 missing one of four wheels on its right main gear when it landed there on Monday.
The aircraft took off from Montreal seven hours earlier and left the wheel in Montreal beside a runway. It apparently rolled away while the aircraft was taxiing for takeoff.
No one noticed anything amiss in the takeoff roll or landing and Air Canada said the mishap, attributed to bearing failure, never endangered the flight, despite breathless mainstream media accounts that suggested something serious had happened.
"As the landing gear is comprised of eight wheels in addition the two nose wheels, this had no impact on the safe operation of the flight," spokeswoman Isabelle Arthur told the CBC.
The aircraft was supposed to do a fast turn in London for a return trip to Montreal but had to be fixed first so the passengers had to be put on other flights.
How the wheel came loose is being investigated but the airline insists the airplane was properly maintained.