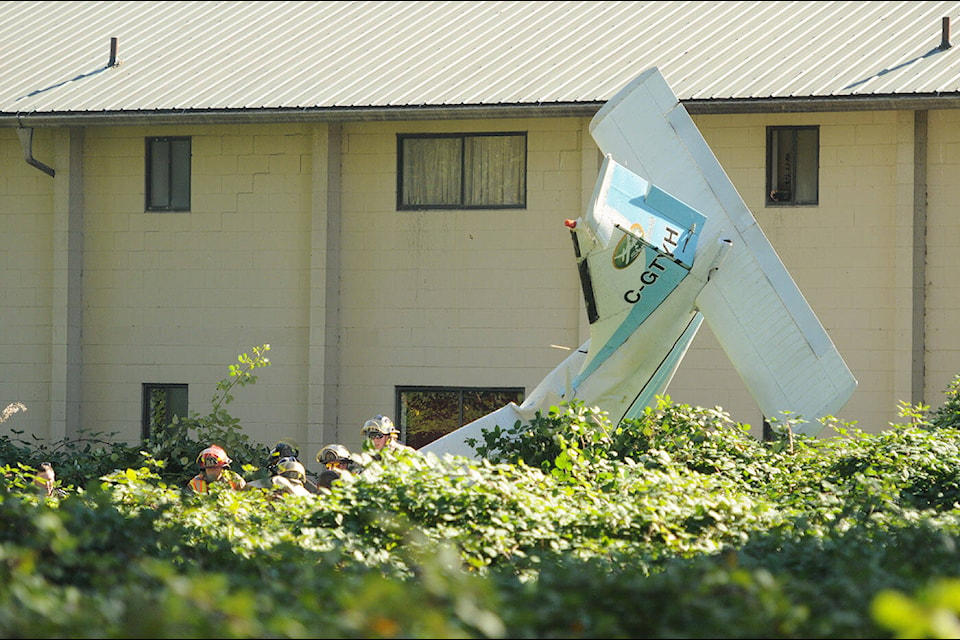 A Piper PA-34-200 Seneca crashed near Chilliwack airport shortly after 2 pm PT Friday afternoon (Oct. 6) killing all of the three people on board. The crash site was about 300 metres south of the threshold of Runway 07 at Chilliwack airport (CYCW), located in the Upper Fraser Valley approximately 75 kilometres east of Vancouver.
The twin-engine aircraft is owned by SkyQuest Aviation Ltd., a flight school based at Langley airport (CYNJ), located about halfway between Vancouver and Chilliwack. The school operates Cessna 152s and 172s in addition to their Seneca.
There were many witnesses to the crash as it occurred beside a busy stretch of the Trans-Canada Highway. The place of impact was in the midst of dense blackberry bushes behind the Chilliwack Motor Inn. There was no post-impact fire. Witnesses tried to reach the airplane and extricate the occupants by using ladders and mattresses laid over the blackberry vines before first responders arrived and took over the rescue. Five ground ambulances responded as well as two air ambulances. The latter cancelled enroute and returned to base once they were notified there were no survivors.
As of this writing the authorities had not yet released any names and were in the process of notifying next of kin. Both the B.C. Coroners Service and the Transportation Safety Board are investigating.