Battle of Britain Pilot Goes Flying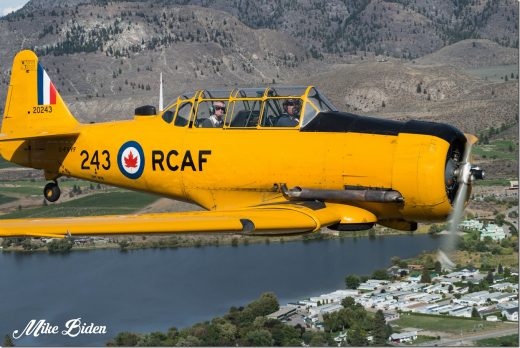 Canada's last surviving Battle of Britain pilot got reacquainted with an old friend Sept. 10, the day before celebrating his 100th birthday.
The former fighter pilot went for a 20-minute flight in Dave Watson's Harvard during the Western Warbirds Flight Fest in Oliver, B.C.
"It was a little bumpy," he said after a team effort lifted him out of the Harvard rear cockpit and put him back on the ground.
Hart, who did part of his training in a Harvard, said the distinctive sound of the Harvard was familiar to him as he answered questions from a curious crowd of onlookers after he was back on the ground.
Hart last went flying three years ago when Kevin Maher took him up for open cockpit aerobatics in a Stearman owned by Trevor Skillen.
Watson, who flies his Harvard as part of the Yellow Thunder aerobatic team, said Hart clearly enjoyed himself and it was an honour for him to do the flight.
Hart, who grew up in Sackville, Nova Scotia, got his pilot's licence in Halifax in 1938. He volunteered for the RAF and was flying Lysanders when Hitler's war machine turned its sights on England. He was retrained on Spitfires (in five days) and spent the rest of the war flying fighters in the U.K., Burma and Italy where he ended his flying in a Mustang.