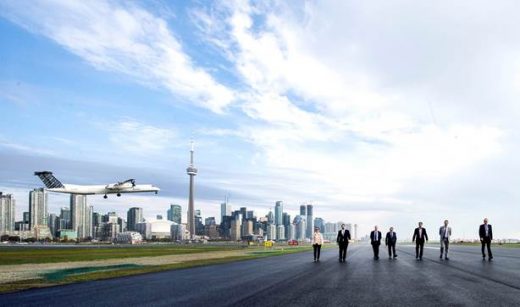 After several months of work, Billy Bishop City Centre Airport's runway 06-24 has been re-opened after being rebuilt.
The runway rehabilitation, which also included repaving 08-26 was the first phase of a three-year plan to bring all the infrastructure at the field up to modern standards.
"After a summer of intensive construction to restore and repave the runways at Billy Bishop Airport I am pleased to come together with representatives of our airport community to celebrate this major milestone in the project," said Gene Cabral, Executive Vice-President of Billy Bishop Toronto City Airport and PortsToronto. "These initiatives to modernize the airport will ensure it continues to serve as an economic engine for the city, provide much needed aviation service and provide efficient service to the 2.5 million passengers who travel through the airport each year."
The airport has become a busy place since Porter Airlines started operation 10 years ago and the traffic had outgrown the decades-old airport facilities.
New lighting, better taxiways and a general refit of the airport will be done over the next three years.
To minimize disruption and noise, materials were barged to the island and some construction done at night, with lights pointed away from residential areas.