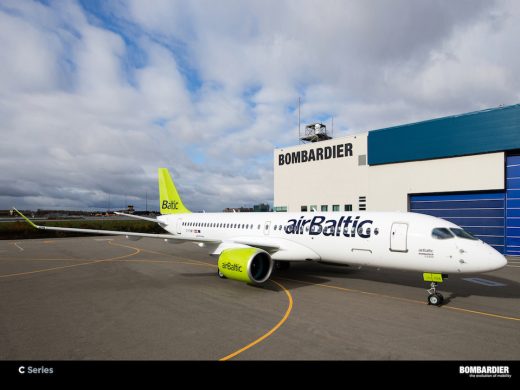 Bombardier isn't ruling out building the CS500, a larger version of the new airliner that would compete even more directly with Airbus and Boeing single-aisle planes.
The comments came at the delivery ceremony for the first CS300 to Air Baltic.
"The industry always is looking for the next derivative and so we get the question quite a bit," Fred Cromer, president of Bombardier Commercial Aircraft said during the ceremony. He also said Bombardier needs to start cranking out the 360 airplanes it's already sold.
So far, it's only delivered four airplanes because of problems with its engine supplier Pratt and Whitney.
Air Baltic is getting 20 CS300s and would consider a bigger jet after it has all those. "We are very happy with the CS300 and then if Bombardier does something more then we are very happy to have a discussion," said CEO Martin Gauss.
Bombardier CEO Allan Bellemare used the discussion to get a plug in for the $1 billion USD in financial aid the company has requested. He said the company could use the money to develop a new aircraft.