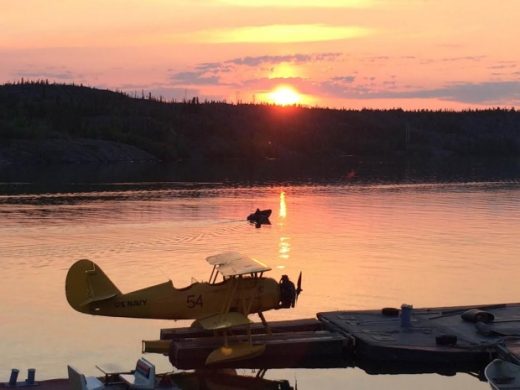 Buffalo Airways founder Joe McBryan has added another splash of colour to the Yellowknife aviation scene.
The colourful aviation icon recently bought a rare Naval Aircraft Factory N3N. The aircraft was built with conventional gear and a single float with sponsons on the wings.
McBryan bought the much-harder-to-fly float version.
He told the CBC that he bought the airplane because he wanted to and for no other reason.
"I have no logical reason to own it or want it," he says matter-of-factly. "That fine line between want and need. I crossed the line and now I have the airplane."
The aircraft was built by the government factory in Philadelphia in 1941 and was one of almost 1,000 built. It was the last biplane operated by the U.S. military and was used as a primary flight trainer for naval aviators.
It has a Wright radial engine and the unique single float configuration is an eye catcher.
It also makes it a handful to land and take off.
"It takes a lot more balancing of the airplane than it does with an ordinary float plane," he says. "This is like always skating with one skate on, or two feet in one boot."