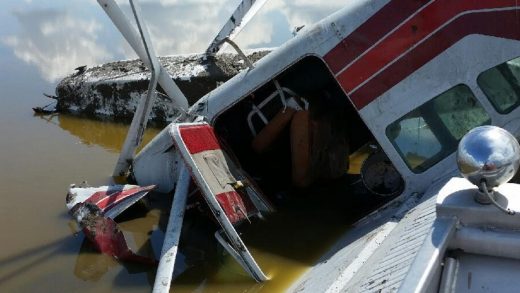 Local officials in Strathcona County near Edmonton are looking at ways to improve response time after an injured pilot waited more than four hours for rescue after crashing in Cooking Lake.
Ed Boychuck had engine trouble in his Cessna 180 floatplane shortly after takeoff and caught a wing on landing, flipping the plane.
He got himself out and had only minor injuries but first responders had their share of problems.
Because of the mud at the shore of the lake, they couldn't launch their boats quickly. After determining that Boychuck wasn't in any immediate danger after talking to him on the phone, they concentrated on getting out to him safely.
"We put the boat off, tried to get it through the mud," Deputy Fire Chief Devin Capcara told Global News. "They weren't able to get it through. They had to winch it back, reload it, move it to another spot, try it again, so all in all it took us almost four hours from the time we got there to the time we were able to get the boat in the water and get out there."
"Frustrating for everybody there," Capcara added. "But once we knew that the gentleman was safe and had relatively minor injuries- we switched from an emergent mode to try to get there as safely and effectively as we can."
Meanwhile, local resident Jim Meyer launched his canoe and made it to the crash scene in about 40 minutes. He gave Boychuck water and the two waited in his canoe until the rescuers arrived.
Boychuck said he understands the fire department did its best and he has no hard feelings about the time it took to get to him. He said he hopes it was a learning experience.
"I have nothing but praise for Strathcona County Fire and Jim Meyer," Boychuck said. "They had a few problems but I'm OK with that. Everything worked out great."