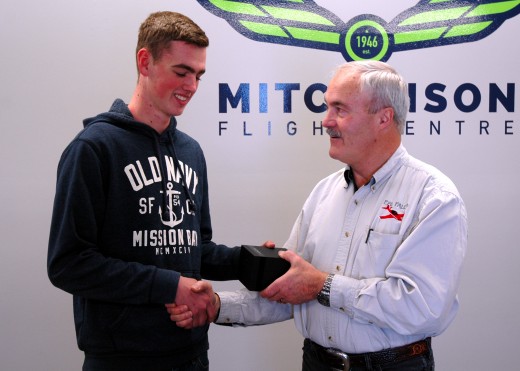 A Royal Canadian Air Cadet who completed flight training through the program's flying scholarship program is the 2015 winner of the I'm A Canadian Aviator contest honouring the first solos of new pilots.
Josh Kerr, of Hodgeville, Saskatchewan, was one of almost 200 new pilots who registered that fateful flight on our Web site during 2015. His name was drawn and he was awarded a Hamilton Khaki Chrono IV watch. Hamilton was the program's principal sponsor.
Kerr's first flight alone happened at Mitchinson Flying Services in Saskatoon and it went as most do.
"I just finished some touch and goes with the instructor and we were on final and he told me to make a complete stop then pull up to a taxiway," he said in his entry to the contest. "He jumped right out and told me I was going solo! I then took off and just completed one circuit. It was a great flight and I can't wait to get some more flights in!"
His instructor was Les Hannah.
It's fitting that Kerr is the winner going into 2016 as the New Year marks the 75th anniversary of the organization. Thousands of young men and women have earned the private pilot and glider licences through cadets and many have gone on to careers in the military, including as pilots.
The presentation of the watch was made by Canadian Aviator columnist and contributor Malcolm McLeod at Mitchinson's Saskatoon headquarters just before Christmas. In addition to the watch, Kerr will get a checkout in a Cessna 172 courtesy of Mitchinson and Canadian Aviator.
We've already started collecting contestants for next year's draw. If you recently soloed or will mark that milestone soon then make sure you record the accomplishment at canadianaviator.com.