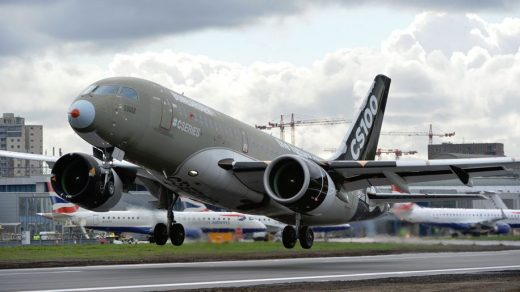 Swiss International Airlines has begun service to London City Centre Airport using Bombardier CS100 airliners, the largest aircraft to regularly use the airport.
To get into City Centre, the approach is at 5.5 degrees rather than the customary three degrees of glide slope. The short runway restricts capacity on the 125-seat aircraft to a maximum of 108. Swiss reduced the passenger load by creating a business class in which the middle seats are empty.
Even with the reduced capacity, the CS100 is still 10 percent bigger than the RJ85 it's replacing. The successful integration of the aircraft to the airport opens up new markets for the CSeries.
Because of its efficiency, the aircraft is able to fly across the Atlantic to eastern Canada and the lucrative markets of the U.S. Northeast. Direct flights to the downtown airport in London would be attractive to business customers especially and although the aircraft is a lot smaller than other airframes used on transatlantic routes, passenger comfort is generally rated high.