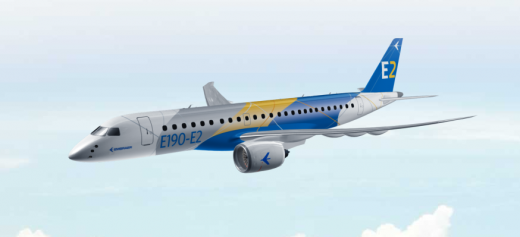 The aircraft that will be the most direct competition to Bombardier's Series was scheduled to roll out of a hangar in Sao Paulo, Brazil Thursday.
Embraer will unveil the E-190-E2, the update of the twin-engine large regional jet that essentially created the category about 20 years ago.
Embraer sold hundreds of the first iteration of the aircraft, including some to Air Canada, and is hoping the modernized version will preserve its market share and blunt Bombardier's entry to the market.
And in an unusual step, the company announced a major redesign of the aircraft on the eve of the rollout.
Embraer says a 1.4 metre wingtip extension and a 4,000 pound increase in takeoff weight on the largest version (E195) of the aircraft giving it an extra 450-nautical mile range to 2450 nm.
The new family of aircraft will have three different wing designs, something the company said is a result of an evolutionary design process.
The aircraft will have the same engines as the CSeries, Pratt&Whitney's new geared turbofan PW1900.