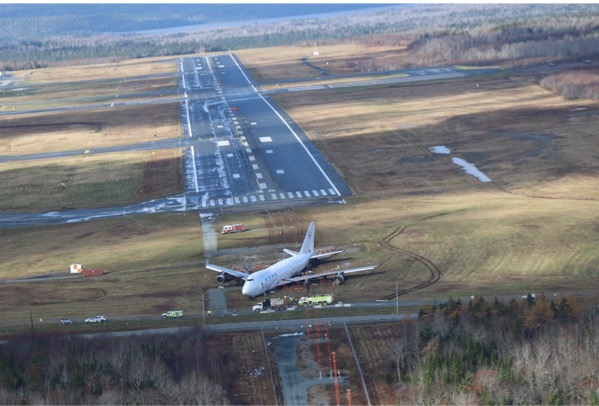 The combination of fatigue, an improperly set throttle and some confusion about the landing conditions the crew of a Sky Lease Boeing 747 faced were cited as contributing factors in a runway overrun that destroyed the aircraft at Halifax/Stanfield International Airport in November of 2018. The Transportation Safety Board released its lengthy report into the mishap, which resulted in minor injuries to three crew members. A passenger on the deadhead flight from Chicago O'Hare was not injured. The aircraft was picking up a load of lobsters bound for China.
The crew took off from Chicago with ATIS information that Runway 14, the shorter of two runways at Stanfield, was the active. When they were about 20 minutes out, controllers switched to Runway 23 because of a change in wind direction. The information was never transmitted to the 747 crew. They continued the approach to Runway 14 after determining the gusty quartering tailwind they now had was still manageable on the 8500 feet available. The plane touched down firmly with 6350 feet of runway in front of them but some additional challenges lay ahead. Somehow the No. 1 throttle was advanced past idle and that retracted the speed brakes and spoilers and shut off the auto braking. The plane landed at a 4.5 degree crab angle and runway handling was compounded by asymmetrical thrust so the pilots didn't notice the insufficient braking right away. The Jumbo Jet went off the end of the pavement at 77 knots and stopped 885 feet later.
The TSB report says the accident happened at about 5 a.m., just about the lowest point of human circadian rhythm and the pilots had not had enough sleep the night before, possibly affecting judgment. "An elevated level of stress and workload on short final approach likely exacerbated the performance-impairing effects of fatigue to limit the crew's ability to determine the effect of the tailwind, influencing their decision to continue the approach," the report said.