First Flight for Global 7000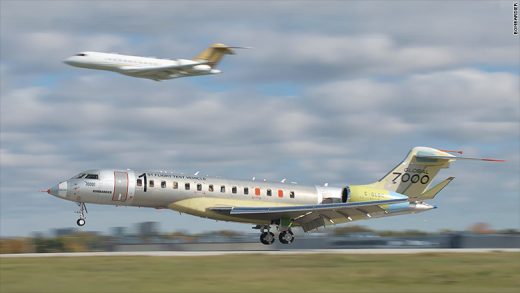 Bombardier says all went as expected with the first flight of its flagship Global 7000 business jet last week.
The big airplane took off from Bombardier's private field at Downsview Airport last Friday for a flight that lasted more than two hours. The plane got to 25,000 feet and 250 mph on the first flight.
It's based on the well proven Challenger series of bizjets so the uneventful flight was no surprise. But while the shape and form of the aircraft is familiar, it's packed with the latest technology and is Bombardier's longest range jet to date. It will go more than 7,500 nautical miles non-stop.
The aircraft will be built in Toronto but most of the flight testing will happen at Bombardier's flight test facilities in Wichita. The weather is better there in the winter.
The program is about two years behind schedule and the aircraft, which was first announced in 2010, will begin deliveries in 2018.
A smaller but even longer range cousin, the Global 8000 will follow in about a year.