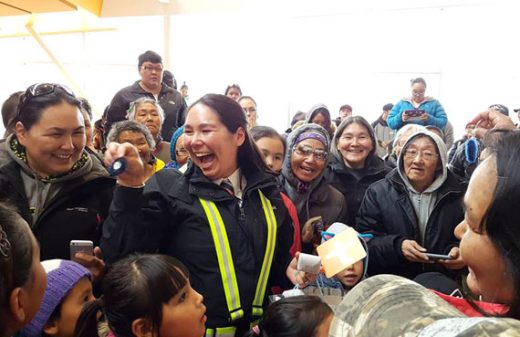 She's one of 14 indigenous pilots working for an indigenous airline but Melissa Haney is the first woman captain.
The pilot flew an Air Inuit Dash-8 to her home town of Inukjuaq to a hero's welcome at the airport. More than 300 people showed up to congratulate her.
"I was super surprised," Haney told CBC. "I even cried a little bit when I came in, because I was really touched by the people who took time out of their schedule… and have this surprise."
Haney started with the airline in 2001 as a flight attendant and a flight in the cockpit jump seat realigned her career path.
She's been a first officer with the airline since 2004 and was promoted to captain over the summer. Her previously scheduled flights to the town on Hudson Bay were cancelled by weather.
There is another female first officer in the airline.