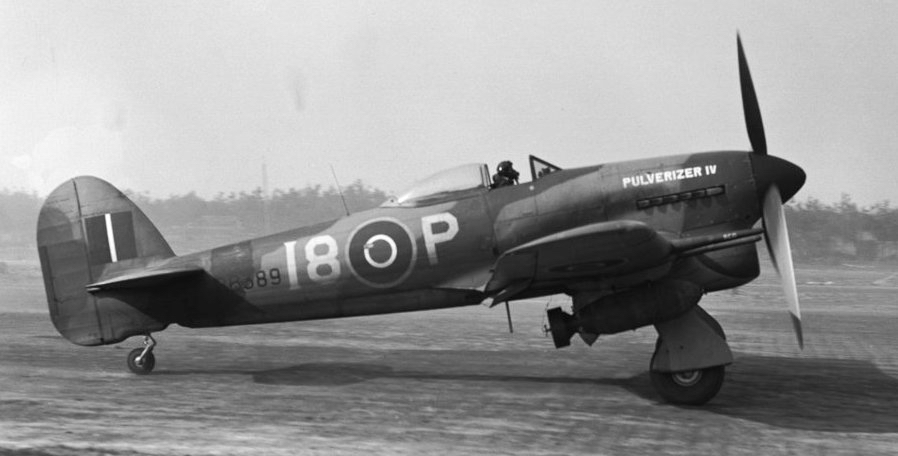 On Vancouver Island, not far from CFB Comox, a group of dedicated volunteers is rebuilding, to flying condition, a British-designed and built Hawker Typhoon fighter-bomber that saw action in the Second World War. The group are members of The Typhoon Legacy Co., headed by Ian Slater, and they are motivated to "remind people of the sacrifices made by Canadians during the war."
"The goal with this aircraft is to see it fly, to hear the Sabre engine again, and to educate people about the sacrifices these crews made," Slater said to CBC Vancouver during an interview.
The RCAF fielded three squadrons of the single-seat Typhoon during the war, and they played a major role during the invasion of Normandy. Other operators of the Typhoon were the Royal Air Force, the Royal Australian Air Force and the Royal New Zealand Air Force.
Hawker Typhoons are rare, with only one complete airframe in existence, serial number MN235, which belongs to the Royal Air Force Museum London. This aircraft was lent to the Canada Aviation and Space Museum at one time and has since been returned. Around four partial airframes are in existence, including the one on Vancouver Island.
Key to the restoration project was obtaining a Napier Sabre engine, which the Typhoon came equipped with. The 24-cylinder engine is also a rarity, with only around 40 in existence. But the group found one and was able to swap it for a Rolls-Royce Merlin engine that the group rebuilt over a three-year period especially for the trade.
"To see and hear a Sabre-powered Typhoon fly again is going to be the highlight of my life," said Slater who added that he has essentially spent his entire life working towards that goal. Further information can be found on the project's website by clicking here.