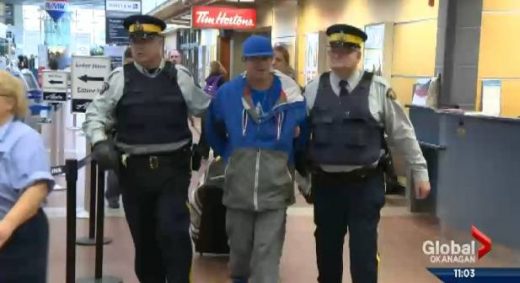 An Okanagan Valley man who called in a bomb threat against a WestJet flight in 2014 will spend a year in jail for what he admits was a "stupid" idea.
Michael Howells, 37, was late for his flight from Kelowna back to work in Fort MacMurray so he called in the bomb threat to delay the flight.
He made the call on his cell phone and it was easily traced. RCMP were waiting for him when arrived to check in for the flight.
His lawyer blamed drug addictions for Howells' poor judgment and the tardy traveller apologized but the judge gave him a year in jail and two years of probation and ordered him to pay $4,000 in restitution to the City of Kelowna.
The actual cost of the threat probably can't be tallied but it resulted in three flight cancellations and disrupted the travel plans of hundreds of passengers. Those on the plane that was targeted were loaded on a bus and watched as their bags were searched by police and dogs.