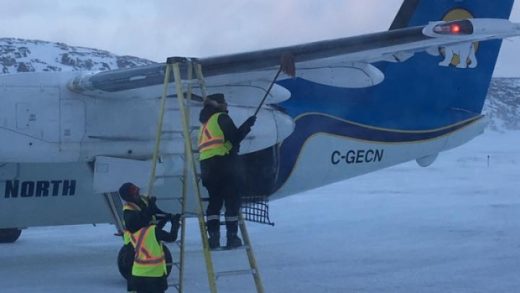 De-icing is a fact of life in Canada's North but when the de-icing machine broke down in Cape Dorset, Nunavut last week, airline officials had no choice but to break out the mop and bucket.
Canadian North said manual application of the de-icing fluid is approved by Transport Canada and other aviation agencies as long as it's done properly.
The airline's sprayer broke and parts had to be ordered so rather than disrupt the schedule, airline staff took to ladders with the mops.
"You always have to have back-up procedures in case a piece of equipment breaks," Canadian North spokesman Kelly Lewis told the CBC. "So this is a safe way of doing it as long as it's done thoroughly, which our employees are trained to do."
Besides being more time consuming, the manual method also uses more fluid. The parts for the sprayer arrived earlier this week and the usual method of de-icing has resumed.