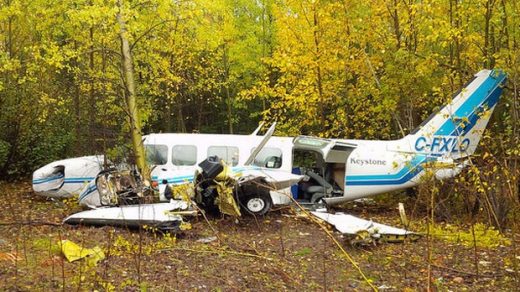 The Transportation Safety Board has confirmed earlier speculation that a piston-powered Piper Navajo had been fueled with Jet A before an off-airport landing near Thompson, Manitoba a year ago.
The Keystone Air Service Navajo suffered a dual engine failure shortly after takeoff from Thompson last September 15 and the pilots put it down in a bushy area next to a highway.
They had tried for the highway but there was too much traffic. All six passengers and two pilots had varying injuries but there were no fatalities.
The plane was filled up at Thompson and it took some doing to get Jet A in the tanks, according to the report.
"In particular, a flared spout, meant for use on Jet-A1 fuel filler openings, was replaced with a spout to enable the delivery of Jet-A1 fuel into the PA-31's smaller fuel tank openings," the report said.
The board also found the pilots didn't supervise the fueling and didn't get a receipt.
After the mishap, Keystone reminded its pilots to make sure they got the right fuel but it was too little to late for Transport Canada.
TC had a good look at Keystone's operation and cancelled the airline's operator certificate.