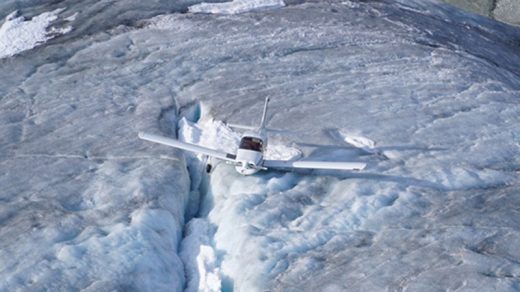 A Beech Musketeer that crash landed on a B.C. glacier last month has been flown back to its home airport under a helicopter.
Owner Vern Hannah said he and his partners have a sentimental attachment to the 1963 aircraft, which he put on a glacier after getting caught in downdrafts on a flight to Whistler from his base in Pitt Meadows. The pilot has hung up his headset but the aircraft will fly again.
"It's a good, hard-working airplane," Hannah told Global News. "We'll put it back together and it'll fly again."
The crash landing sparked a massive search and the three occupants of the airplane were spotted hiking out the next day. They were virtually uninjured.
The rescue of the aircraft was just as complicated. Blackcomb helicopters used cargo nets over the wings to destroy lift and carefully lifted the Beech off the snow.
The accompanying video includes unique views from a camera attached to the sling.