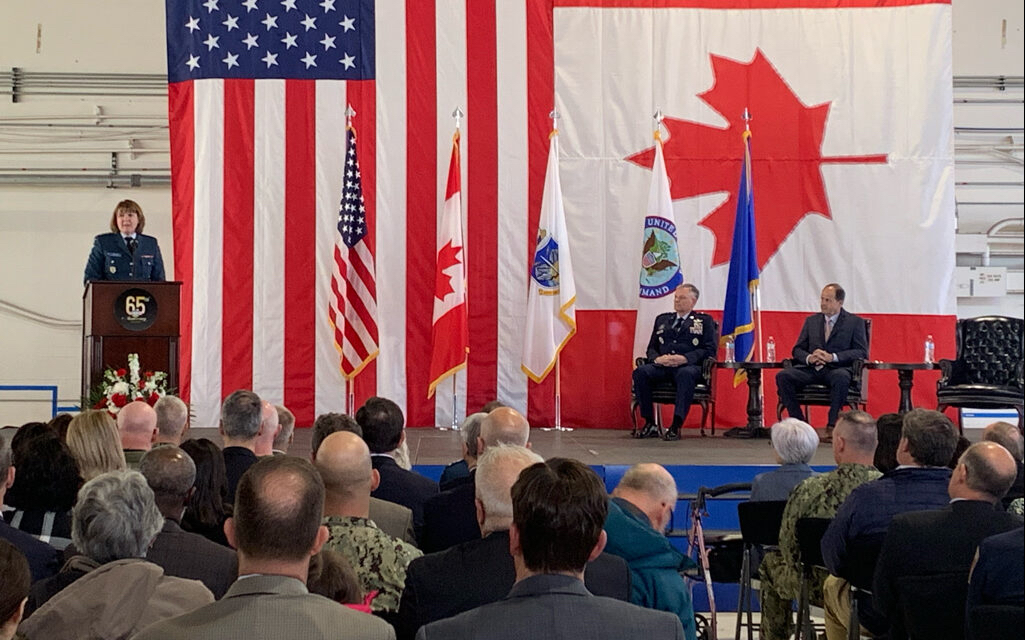 Two RCAF generals joined NORAD commanding officer in marking the North American Aerospace Defense Command's 65th anniversary at the organization's base at Peterson Space Force Base in Colorado. Joining USAF General Glen VanHerck were retired RCAF General Tom Lawson, former chief of (Canada's) defence staff and NORAD deputy commander, RCAF Lieutenant-General Frances Allen, current vice-chief of defence staff, and U.S. Assistant Homeland Defense Secretary Melissa Dalton.
"NORAD continues to foster the partnership that has provided Canada and the U.S. with what is our most distinct strategic advantage over the past 65 years", said Lt-Gen Allen. "NORAD is an obvious example of the enormous benefit to shared security and regional stability generated by international cooperation, an example that holds steadfast in NORAD's resolve to keep North America safe."
The event was marked by a flyover of a General Dynamics F-16 Fighting Falcon and RCAF McDonnell Douglas CF-18 Hornets.
"As we reflect on the integral contribution that NORAD has made to the safety and security of North America these past 65 years, this is also a moment to reflect on the immense impact that NORAD will have in the years to come," added Asst. Sec. Dalton.
NORAD's press release that was issued in conjunction with the anniversary celebration listed the different aircraft, 14 in all, that have served in NORAD operations since May of 1958:
F-86D/L Sabre
F-94C Starfire
F-89D/H/J Scorpion
F-102A Delta Dagger
F-104 Starfighter
F-101B Voodoo
F-106A Delta Dart
F-4C/D/E Phantom
F-15A/C Eagle
CF-101 Voodoo
F-16 Fighting Falcon
CF-18 Hornet
F-22 Raptor
F-35 Lightning II