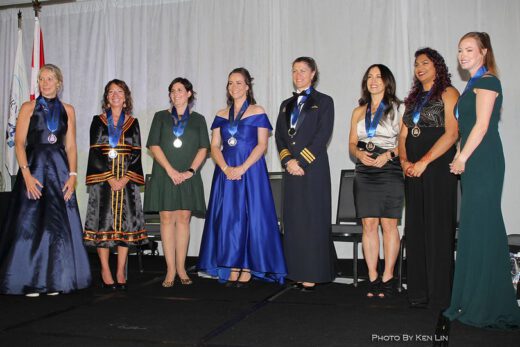 The Northern Lights Aero Foundation honoured eight women in the aerospace industry at their annual gala last Oct. 16. The organization annually recognized women's achievements in eight categories and are as follows in the accompanying photo, from left. 
Business Award – Nancy Barber: Nancy was appointed Chief Operating Officer of Operational Industrialization, Footprint and Central Planning, for Bombardier Aviation after working through progressively critical roles within the organization.
Education Award – Jo-Anne Tabobandung: Jo-Anne graduated from the FNPI flight training program in 1992, and has flown for the company Charter service and held the position of Chief Flight Instructor for 14 years, she is also the Dean of Aviation at the First Nations Technical Institute (FNTI) on the Tyendinaga Mohawk Territory.
Engineering Award – Kathryn Atamanchuk, P.Eng., MBA, PMP, FEC: After providing technical and engineering leadership on the T56 engine, Kathryn is currently an Engineer-in-Residence and Industry Partnerships Facilitator for the Price Faculty of Engineering at the University of Manitoba.
Flight Operations Award – Stacey Jackson: She is a member of the International Society of Air Safety Investigators (ISASI) and is a current aircraft accident investigator with the Air Line Pilots Association, representing the WestJet Airlines, where she operates a B737NG. She is the Canadian representative of the International Federation of Airline Pilot's Association's Female Pilot's Working Group, focusing on issues that affect female airline pilots globally.
Government Award – Lieutenant Colonel Diane Baldasaro: Diane was posted to 2 Canadian Forces Flying Training School as Chief Flying Instructor. Returning to Trenton, she completed the Joint Command and Staff College program, then became Deputy 8 Wing Operations Officer. Promoted to her current rank of Lt. Colonel, she was Operational Planning Team Lead for the RCAF Air Test and Evaluation Rebalance. In 2018, she became Commanding Officer of 437 Squadron, responsible for Strategic Air-to-Air Refueling and VVIP Transport for the Government of Canada in the Polaris Airbus aircraft,
Trailblazer Award – Honorary Colonel Kendra Kincade: Kendra worked as an Air Traffic Controller for nearly 20 years, until transitioning to her role as NAV Canada's Employee Brand Specialist. In 2015, Kendra founded Elevate, a non-profit devoted to helping women realize their potential, where she is currently Chair and Executive Director. Kendra is an Honorary Colonel of the RCAF 417 Helicopter Squadron and has received numerous awards and recognition for her work inspiring women across Canada.
Rising Star Award – Maegan Extross: She completed a co-op term with NAV CANADA, where she was hired full-time after her graduation in 2018. She works as a Research Analyst, providing traffic and safety analysis to support informed decision-making. Maegan also enjoys volunteering with Elevate Aviation and as the Ontario Ambassador works to coordinate events and partnerships.
Rising Star Award – Kathleen Legge: Kathleen has flown as a King Air 200 Captain for Maritime Air Charter, often doing the rewarding flying of organ transfer medevacs. In addition to being Assistant Chief Pilot, Company Aviation Safety Officer, and Marketing Manager, Kathleen is also the Director of Flight Operations. Kathleen also works as a contract captain for NovaJet Aviation Group based in Toronto, flying private & corporate charters on a Gulfstream Astra SP.