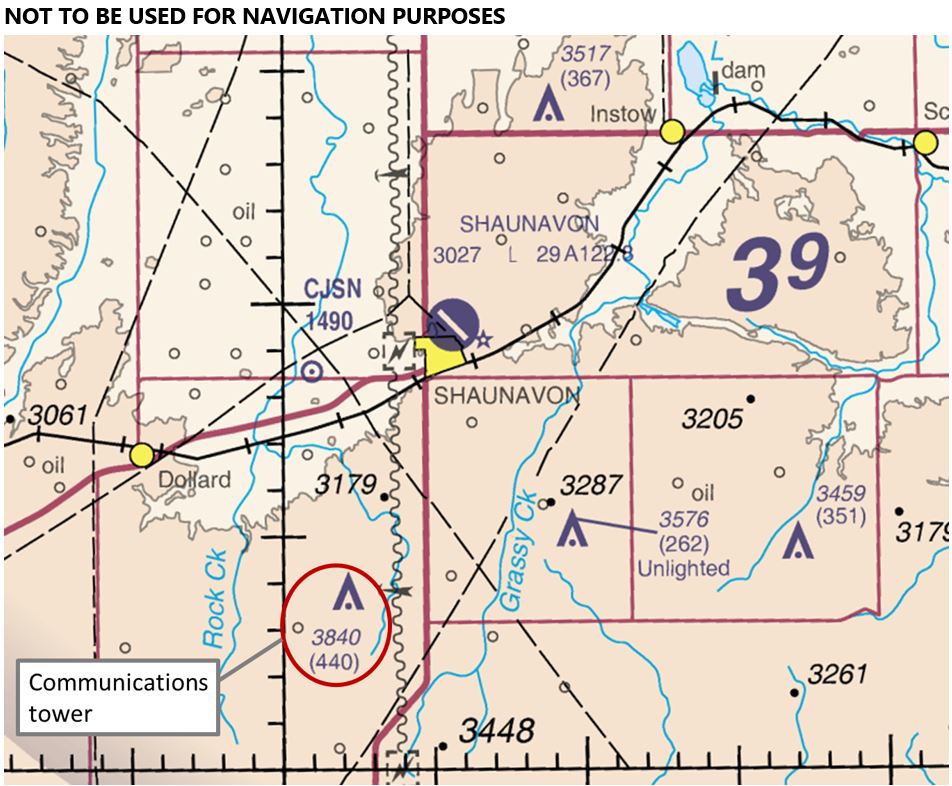 Glare from a rising sun last September may have been a factor in the fatal collision between a Cessna 172 doing pipeline work and a communications tower near Shaunavon, Saskatchewan. The accident claimed the lives of both occupants.
The tower, clearly marked on the Regina VFR Navigation Chart (VNC) with a noted height of 440 feet AGL (above ground level) and 3840 feet ASL (above sea level), was struck by the Cessna at a point 20 feet below its highest point. The collision sheared off a four-foot section of the aircraft's wing.
The aircraft was operated by Airborne Energy Solutions Inc. and on a VFR mission to collect electronic data. The client had provided the aircraft operator with specific mission standards and requirements, including a mission height of 550 feet AGL with a tolerance of 50 feet either way. The report noted, however, that there was no instrumentation on board that indicated altitude above the surface.
Both pilots were commercially licensed, and the pilot flying had accumulated 355 hours of flight time with 77 hours in service to Airborne Energy in their 172. He also held an instrument rating. The TSB noted that he had obtained adequate rest time and there was no indication that any medical factors could have affected his ability to fly safely. The other pilot was monitoring the data collection and assisting in navigation. He had accumulated 529 hours of flight time, almost all in Cessna 172s.
The skies were clear at 10:03, the time of the collision, with the position of the sun 125° True, being 37° to the right of the Cessna's track, and 28° above the horizon, leading the TSB to suggest glare from the rising sun may have been a factor in the collision.
The TSB ends the report with a message to pilots to thoroughly consult applicable VNC when flight planning to avoid collision with obstructions.