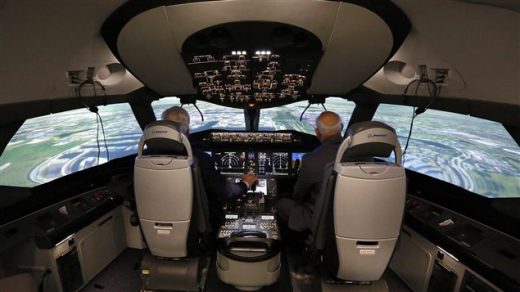 Transport Canada's director general Aaron McCrorie defended cuts to training flights for its inspectors in Parliament on Tuesday saying they're actually better off learning on the ground.
"You can actually get better training with a simulator," he said in testimony before the House of Commons Transport Committee.
McCrorie was responding to questions from committe members about a survey conducted by the union representing TC inspector pilots that said 80 percent of its members though safety was being compromised by moving training from the cockpit to the simulator.
The change in training focus came with sharp budget cuts to the inspector flight training budget and the pilots are now able to be fully checked out without ever leaving the ground.
McCrorie told the committee that there are  "better, more efficient pilots coming out of the simulator stream."
He was backed up by Denis Guindon, director general for aviation safety oversight and transformation said simulators can replicate situations that are too dangerous to try in flight and modern sims replicate "everything down to the last two feet."
TC has cut its training budget from $8 million to $3.5 million and financial constraints are thought to be the real reason TC inspectors hardly ever fly anymore. The Canadian Federal Pilots Association says its survey found two thirds of TC inspector pilots haven't flown a plane in the last year.
TC spokeswoman Natasha Gauthier told the National Observer last week that the department has "revised its flying program" using "the latest simulator technology" and said it's in line with international standards.