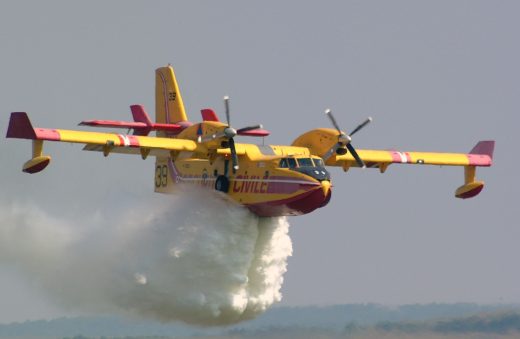 Viking Air is not ruling out resuming production of the CL-415 amphibious water bomber.
In recent interviews, Viking CEO Dave Curtis has said that resuming production remains a possibility and the company is able to take that on.
"Absolutely, we are capable of building a new aircraft," he told Flightglobal in July.
The Victoria, B.C. company bought the type certificate for the iconic aircraft from Bombardier in June.
Bombardier hasn't built a CL-415 since 2015 but there are about 170 in service, mainly in Europe.
The CL-415 is the latest iteration of the CL-215 water-scooping flying boat first developed by Canadair in the 1960s. It's widely used by European government-run firefighting agencies.
Bombardier suspended the program last year, possibly as a cost saving measure to free up resources for its CSeries program.
Viking has said it will not resume production, at least not immediately, but will concentrate on keeping the existing fleet flying.
A new facility in Calgary will be the base of that operation and more than 40 people will be hired to run it. Many of those hired will be people who were laid off when sales slipped for the Twin Otter Series 400 that Viking manufactures.