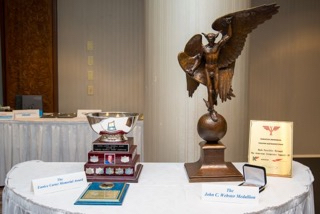 The 2023 edition of the Webster Memorial Trophy Competition will be hosted by the Waterloo Wellington Flight Centre at Waterloo's airport (CYKF) from August 21 to 26, 2023. The annual competition uses a variety of criteria and contestants are judged on their performance. The winner is proclaimed 'Canada's Top (General Avaition) Pilot'.
"We're delighted to host the prestigious Webster Memorial Trophy Competition this year and look forward to welcoming the finalists and Webster Team to WWFC," said the flight school's general manager Bob Connors in a press release.
The deadline for entries is midnight eastern time on June 15. Further information can be found at webstertrophy.ca.
The competition was created in 1932 in honour of John C. Webster Jr by his father after his son lost his life in an air crash while practising aerobatics at Saint-Hubert, Quebec in 1931 as part of the Trans-Canada Air Pageant. Just a month earlier, Webster had represented Canada in England's King's Cup Air Race in a Curtiss-Reid Rambler.
There have been only three interruptions in the otherwise annual event: the Second World War; in 1954 due to high administrative costs; and again during the COVID-19 pandemic.
Watch the video below for an interview with the 2022 Top Pilot (courtesy of Castenet).