You are browsing the Blog for David Niles, Author at Canadian Aviator.
Flight Date: 07/24/2017
Flight School: Calgary Flying Club
Flight Instructor: Bill Bulek
Comment:Congratulations on your first solo!!!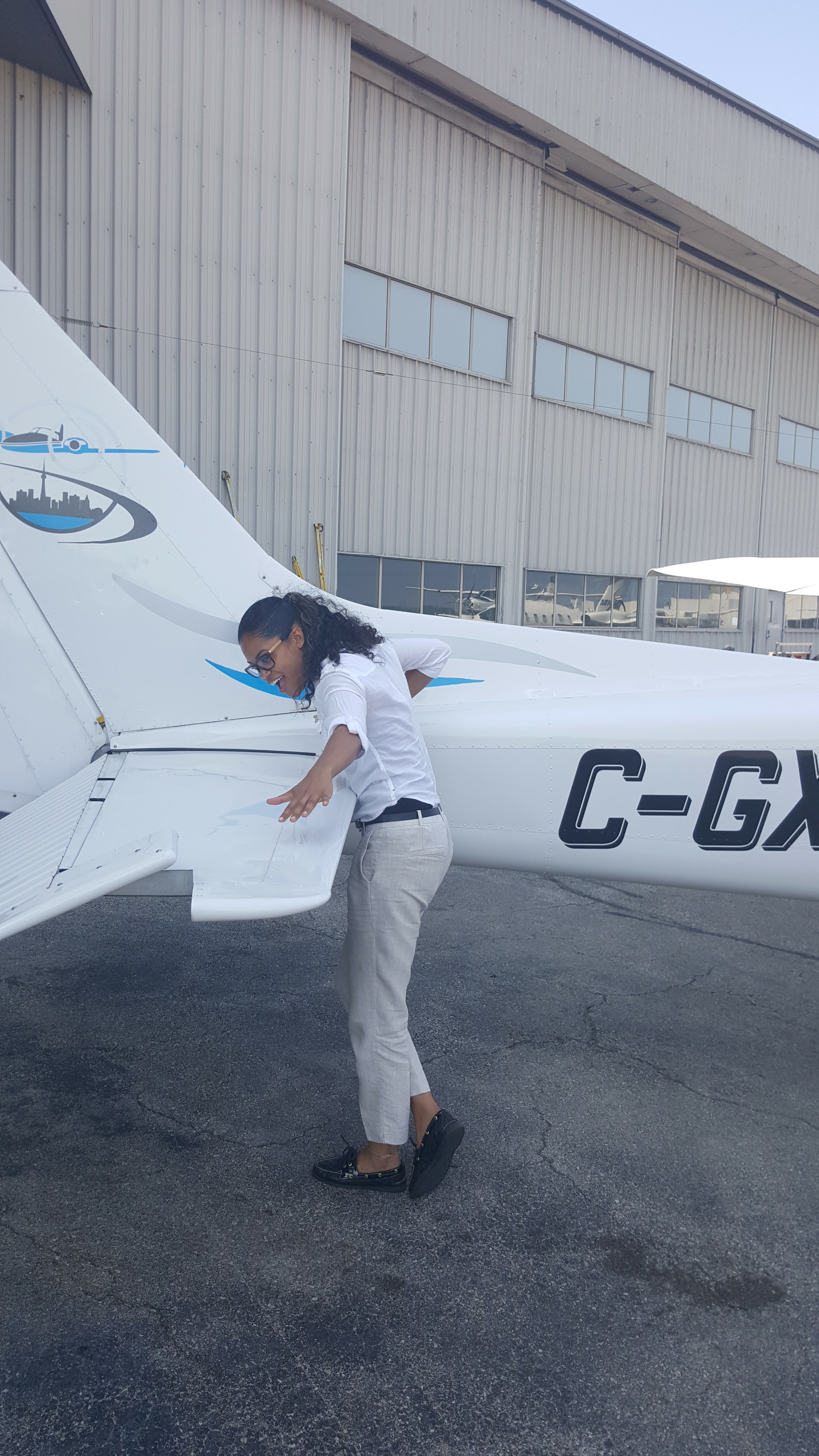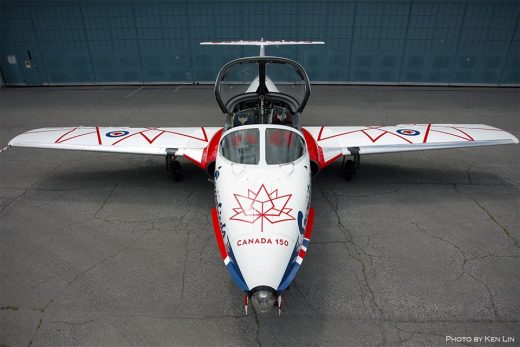 Just in time for the traditional Parliament Hill flypast on Canada Day, the RCAF unveiled a specially painted CT-114 Tutor celebrating 150 years of confederation.
The Tutor is resplendent in maple leaves and other Canada 150 regalia. Canadian Aviator photographer Ken Lin was one of the select media reps invited to the unveiling and filed this report on our Facebook page, where you can also see more photos.
Canadian Aviator contributing photographer Ken Lin recently took the following images of the "Canada 150" theme CT-114 Tutor jet as it was being readied for the ferry flight from CFB Trenton in southern Ontario to the 431 Sqn Snowbirds home base in CFB Moose Jaw, SK.
Sqn CO Lt. Col. Brad Wintrup and Sqn WO MWO Greg Fleet were the aircrews flying this beautifully painted jet home, which will be used to support smaller venues or dates where the nine-ship formation cannot attend during the celebration of Canada's 150th birthday this year.
While the topside of the aircraft has simple yet elegant designs, the bottom of the aircraft is painted with 150 maple leafs to symbolize the 150th birthday of Canada, it will be very visible from the ground even during level flights.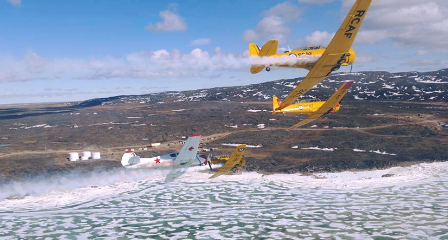 By Diana Spremo
The Canadian Arctic Aviation Tour performed air show #60 Wednesday in Churchill, Manitoba, the polar bear capital of Canada. Performers have been seeing lots of polar bears as they fly above the North.
This Saturday, to celebrate 150 years of Canadian Confederation, #ArcticTour150 will be performing in Baker Lake, Nunavut, the geographic centre of Canada.
The town is going all out with a cultural music/arts festival and BBQ.
The photos and stories coming out of the tour are incredible and the traveling tour members would love southerners to know more about the positive impact they are having.
They keep hearing how entire towns are coming out to see them.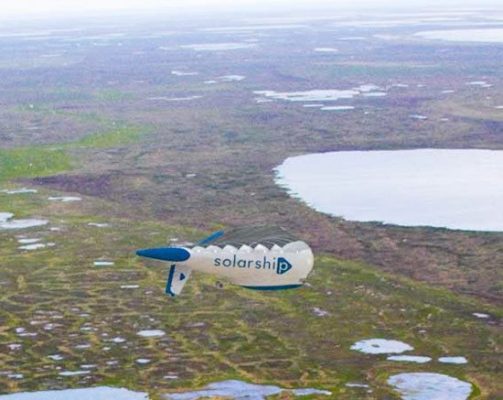 Solar Ship, a solar-powered airship, completed the first in a series of flights to develop a fossil fuel free transport and logistics system for Canada's North. Solar Ship is working with Defence Research and Development Canada (DRDC) as part of project to support the Department of National Defence.
The project is being funded by the Federal Government's Build in Canada Innovation Program (BCIP) to work with DRDC to demonstrate the capabilities of a new transport system able to service Canada's far North without using fossil fuel. The aircraft will be tested for a number of capabilities including cargo, long endurance surveillance and reconnaissance, and low speed search and rescue.
DRDC's Vaughn Cosman was on site to witness the flight. He said "We knew Solar Ship's hybrid aircraft platform has the potential to lift a great deal of cargo. Today I saw an extremely well trained team fly a stable, controllable aircraft. I have many years of experience flying in Canada's north and I'm excited to work with Solar Ship to create a robust, fossil fuel free transport and logistics platform that will change the way we connect our north."
Solar Ship's CEO, Jay Godsall said: "We agreed to celebrate Canada's 150th with DRDC early by showing what the Wolverine aircraft platform can do for connecting Canada's north. DRDC has been a fantastic partner helping us define what we need to do to create a robust platform for the north. Fossil fuels are an economic and environmental trap for the north. They can be replaced. A new generation of northern people can make this shift. We need to demonstrate these systems are robust enough for the north and DRDC is the ideal partner to accomplish this."
This milestone marks the first demonstration flight for Solar Ship's Wolverine line of aircraft, which will feature amphibious capabilities and the ability to transport cargo loads that bush planes cannot carry.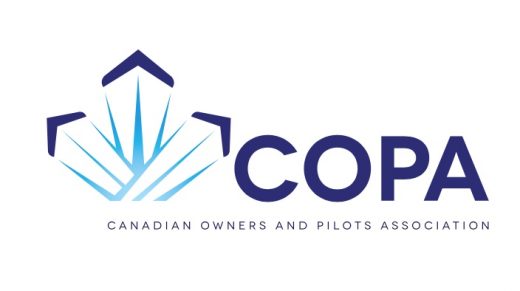 The Canadian Owners and Pilots Association (COPA) and Transport Canada have announced the launch of a new campaign aimed at educating pilots, passengers, and the general public on key areas related to safety in general aviation. Through an investment by Transport Canada over the next three years, the General Aviation Safety Campaign will highlight important topics in several areas of general aviation.
The announcement was made at a panel discussion at  COPA's 2017 Convention and Trade Show held in Kelowna, B.C. June 24
Aimed at both pilots, industry stakeholders, and the public, the campaign will address: promoting compliance with safety regulations, building awareness of safety hazards and risks, enhancing collaboration on safety strategies, promoting Canada's State Safety Program and safety objectives, and increasing public confidence in civil aviation. The safety campaign represents a partnership between Transport Canada and COPA, supported by an advisory committee comprised of partner associations from across Canada.
"COPA is proud to partner with Transport Canada in launching this exciting initiative to not only inform members of the general aviation community, but also the public on some of the important safety topics relevant to general aviation," said Bernard Gervais, president and CEO of COPA. "As general aviation pilots, we take pride every day in committing ourselves to the highest standards of safety both for our passengers and ourselves. COPA is pleased that Transport Canada has chosen to work with us in this educational context in order to avoid imposing costly and unnecessary regulatory burdens on Canadian pilots."
General aviation describes all civil aviation operations that are not scheduled air services, or unscheduled air services for hire. The most common general aviation activities include private aviation, business aviation, agricultural aviation and flight training. It is estimated that nationally, general aviation contributes $9.3B to the Canadian economy and accounts for almost 36,000 direct and indirect jobs.
"The safety of the aviation community is a priority for Transport Canada. Through this campaign, the department is taking a proactive approach to safety by collaborating with key stakeholders to promote regulations, build awareness of risks and educate passengers, aircraft owners and maintenance providers on safe aviation practices," said Aaron McCrorie, the director general for civil aviation at Transport Canada.
When Air Labrador ceased to exist last week, its longest serving pilot figured that was as good a time as any to end his highly respected career. Lester Powell spent 44 years engaged in some of the most challenging flying on Earth, ensuring people and freight could move in and out of the far-flung communities of northern Labrador and Quebec. "When you've flown in as much weather — and often without [instrument flight rules and] things like that — and you're able to hang up your headset and still be here and be safe, it's worth celebrating," Dempster said. Although he spent more than four decades and 35,000 flight hours at Air Labrador, he was only there for half of the airline's life. It was founded in 1948 and was one of the longest lived airlines in the world until last week when it became part of a new venture called Air Borealis.
Air Borealis is the amalgamation of Air Labrador, which is owned by the Inuit-owned Nunatsiavut Group of Companies and Innu Mikun, owned by the Innu Development Limited Partnership. Innu Mikun was run by PAL Airlines and the new airline will be run by PAL. The amalgamation has created a monopoly but rather than compete for passengers the schedules of the two carriers can be adjusted to provide expanded service. New flights will be added and the greater availability of aircraft will ensure faster response times for needed services. Innu and Inuit residents will get discounted fares on Air Borealis.
Hundreds of Canada's aviation leaders were on hand at Vancouver International Airport June 15 to witness the induction of four new members of the Canadian Aviation Hall of Fame and the honouring of the RCAF's Golden Hawks. The Hall welcomed loving members Robert Deluce, founder of Porter Airlines, Daniel Sitman, founder of Helijet Airways and Rogers Smith, a retired NASA test pilot and bestowed the honour posthumously to Erroll Boyd, the first Canadian to fly across the Atlantic. It was the 44th induction ceremony and was held in a concourse at YVR.
Deluce told attendees that growing up in a flying family paved the way for his ultimate success and credited his close-knit family, many of whom attended the ceremony, for charting the course. The Deluce family started White River Air Services in the 1950s before Deluce was born and he joined the family business in 1971 during a period of rapid expansion that led to their operations dominating the regional airline business in Ontario. Air Canada acquired a majority share of the business in 1987 and Deluce became president of Canada 3000. Porter was started in 2006 and has grown to become a major regional carrier in eastern Canada and the northeastern U.S. with its base at Billy Bishop Airport on Toronto Island.
Daniel Sitnam grew Helijet from a single Bell 412 with scheduled service from YVR to Victoria in 1987 to a fleet of 16 helicopters and two fixed wing aircraft flying 300 scheduled routes a week. It's the world's largest scheduled helicopter carrier and also does medevac and charter flights. Sitnam told the crowd the can-do attitude of his staff propelled the airline into its current position and he urged those attending to act on those dreams and good ideas that turn into successful enterprises.
Rogers Smith was born in tiny, isolated Dawson Creek, B.C. in 1934 but his mother was obviously convinced that he would reach for the stars. She wrote on the back of a picture of three-year-old Rogers that she would "see you in the hall of fame," and Smith showed that photo to the crowd. After a career as an RCAF fighter pilot, Smith was top-level test pilot for NASA and flew the SR-71 Blackbird and a number of prototype fighters. At 83, he still flies his Cessna 182 to support his work as an unmanned aerial vehicle test pilot.
Errol Boyd flew a Wright-Bellanca WB-2, named Maple Leaf, across the Atlantic with navigator Harry Connor on Oct. 9, 1930. They took off from Harbour Grace, NL and almost became a grim statistic in those danger-fraught days of record setting flights. Fuel system problems forced them down on Tresco, one of the Scilly Islands, off the east coast of the U.K.
The gala also honoured the RCAF Golden Hawks and its founding commander, Fern Villeneuve, was on hand to accept the Belt of Orion Award. Villeneuve laid much of the credit for the team's success on the ground crew that kept the complex fighters airworthy on the show schedule.
Hundreds of delegates are expected at the Canadian Owners and Pilots Association annual convention and tradeshow in Kelowna, B.C. this week.
Among the first things those attending saw was the organization's new branding, which is a marked departure for the group's wings logo that had been virtually unchanged over the past 65 years.
The new logo was designed by Dave O'Malley of Ottawa-based Aerographics and incorporates a stylized maple leaf formed of wings heading skyward.
"The new maple leaf burst brand identity of the Canadian Owners and Pilots Association expresses the energy, joy and freedom inherent in aviation in Canada today," O'Malley said
Business sessions begin on Friday and there are more than 30 businesses in a trade show. The static display has attracted about 15 aircraft.
After one of the most complicated recovery and restoration efforts in warbird history, much of the town of Fairview, AB turned out to watch a PBY Canso lift off from the local airport for its official first flight on Father's Day. The aircraft is a former RCAF Canso that hunted submarines in the North Atlantic in the Second World War. It's second career as a water bomber ended during a rough landing that holed the hull on Sitidgi Lake in the Northwest Territories in 2001. The owner, Buffalo Airways, hauled the aircraft to shore and salvaged the engines but left the airframe beside the lake. That's where the Fairview Aircraft Restoration Society stepped in.
In 2008 they dragged, trailered and barged the aircraft to Fairview and, over eight years, restored it to flying condition. Veteran Canso pilot Bill Brady was at the controls for the June 18 flight. "It flies beautifully, nice and straight," he told the CBC. ""It flew just like a Canso. Very heavy on the controls," he said. "You use an awful lot of rudder which you don't [use] on most airplanes." Two Second World War Canso pilots, James McRae, 99, and Hal Burns, 94, were on hand for the event. The society plans to use the aircraft as a flying museum to educate people about Canada's wartime aviation contribution.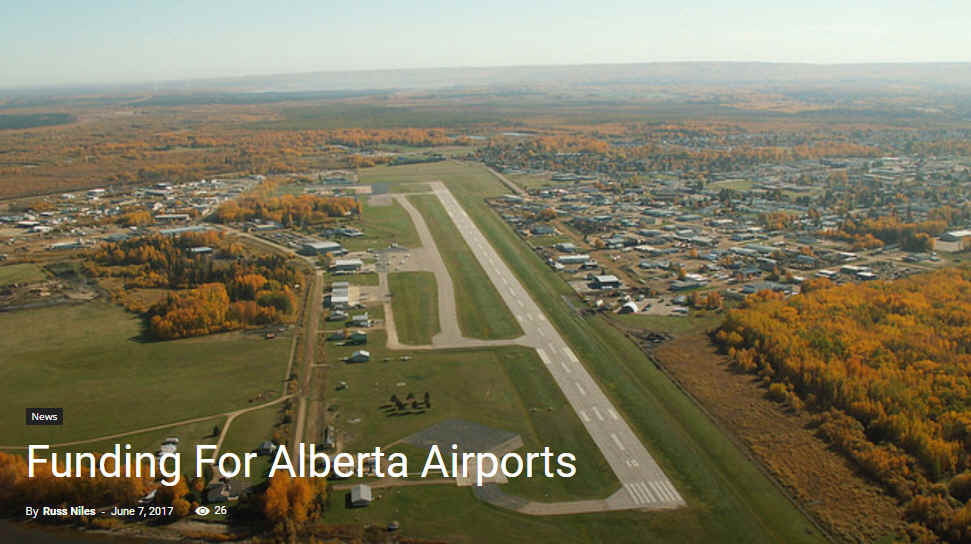 Six airport projects totalling about $2 million have been included in the Province of Alberta's Strategic Transportation Infrastructure Program for 2017.
The government announced the projects in early June and will pay 75 percent of the cost of the projects.
The five airport projects are being funded along with 81 road and bridge improvements.
The biggest aviation project is the upgrading of Slave Lake Airport.
"Having both a forestry air tanker base and air medevac at the Slave Lake Airport, it is easy to see this airport is heavily used by the people of this region and surrounding area," said Slave Lake Mayor Tyler Warman. "This infrastructure would not exist without provincial support, and after five years of lobbying we are excited to see the province investing again in regional airports."
Airport funding has been lean in Alberta in recent years and the funding, though relatively low, is seen as a positive sign that the province is recognizing the value of local airports.
The total value of all the projects is $37 million, with bridges getting most of it.
Nevertheless, local governments are happy to see the money again.
"Strong transportation networks are vital to making rural Alberta a great place to live, work and invest. The AAMDC is pleased by the Government of Alberta's commitment to restoring STIP funding, as it will play a large role in supporting rural municipalities in their continual work to maintain and improve local road bridges, resource roads and community airports. The AAMDC looks forward to working with the Government of Alberta to ensure that STIP funding continues and reflects the strong partnership between the Government of Alberta, the AAMDC and Alberta's rural municipalities."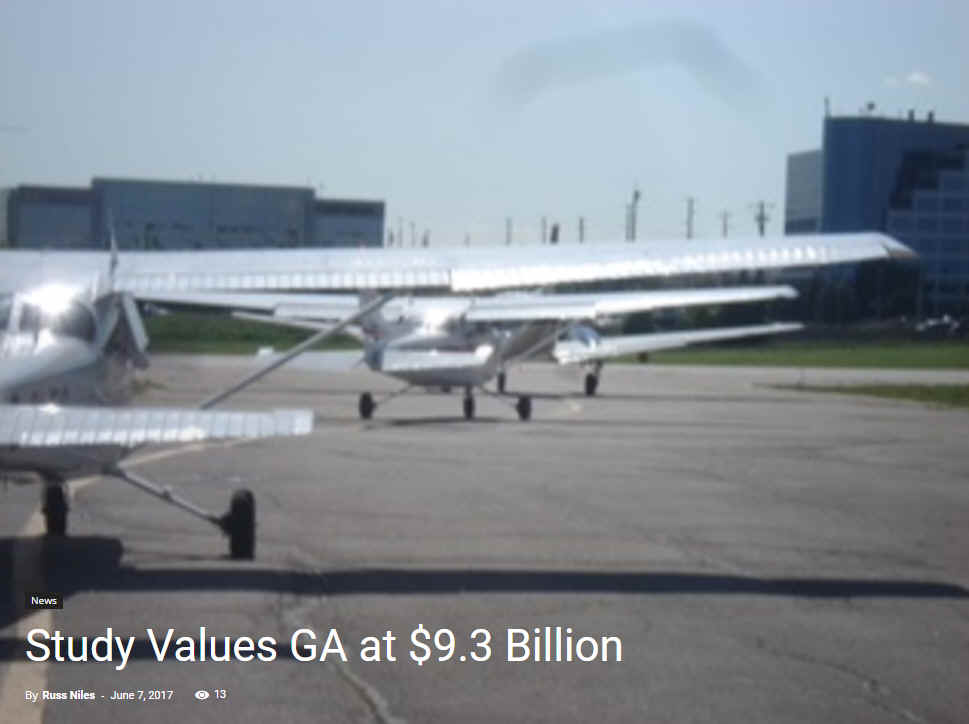 The Canadian Owners and Pilots Association (COPA) has released a new study that highlights the economic impact general aviation contributes to Canadian communities and to the national economy. The study, compiled by Vancouver-based InterVISTAS, estimates that general aviation operations in Canada contributes $9.3 billion in economic output nationally and directly accounts for almost 20,000 full time jobs in communities across the country.  The report also highlights the benefits that general aviation operations bring to communities in terms of tax revenues, direct, and indirect employment.
"This study shows the real importance of maintaining the general aviation infrastructure in communities across Canada, including local airports," said Bernard Gervais, President and CEO of COPA. "General Aviation is a critical element of the transportation network and one that helps connect communities and create jobs and opportunities for Canadians. COPA looks forward to continuing to work with communities across Canada to realize the impact that the industry has in their regions."
General aviation (GA) describes all civil aviation operations that are not scheduled air services, or unscheduled air services for hire. The most common GA activities include private aviation, business aviation, agricultural aviation and flight training. According to recent estimates by the International Council of Aircraft Owner and Pilot Associations (IAOPA),  there are more than 350,000 aircraft and 700,000 pilots worldwide who participate in the global GA community on an annual basis. In comparison, commercial aviation accounts for only 60,000 aircraft and 400,000 pilots. This demonstrates the vast size and significance of the GA sector, worldwide.
COPA represents over 17,000 pilots and aircraft owners across the country and is the national voice for General Aviation in Canada. Through the mission of advancing, promoting, and preserving the Canadian Freedom to Fly, COPA is at the forefront on issues that affect pilots, aircrafts and airports in communities across Canada and is an active partner with all levels of government in ensuring a bright future for general aviation. For more information, visit copanational.org.
If you would like more information on the economic impact of general aviation in Canada, please contact Carter Mann, Manager of Government Affairs and Communications at 613-236-4901×112 or by email at cmann@copanational.org.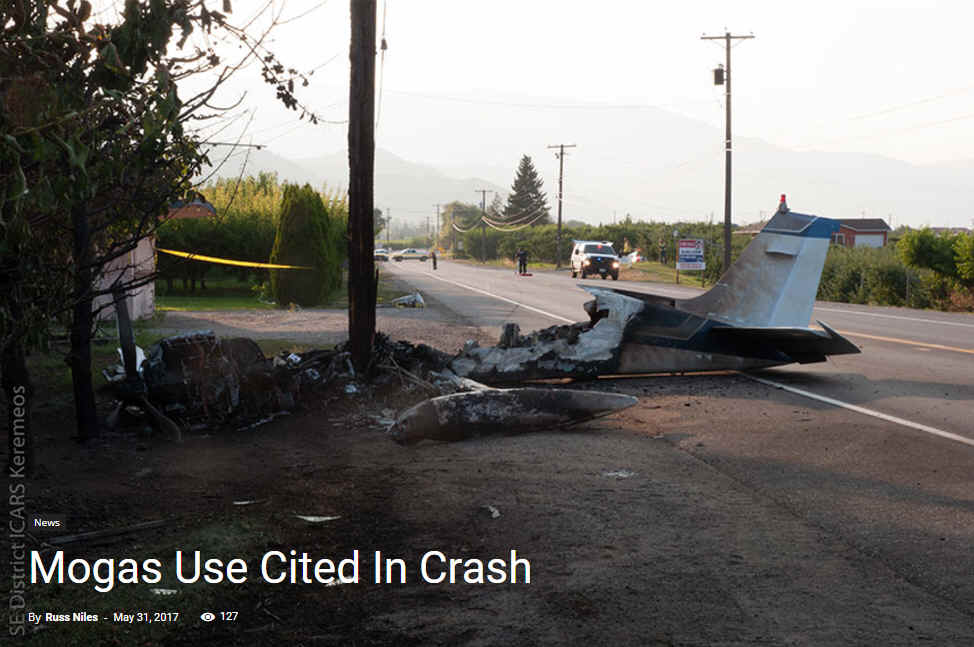 The non-certified use of mogas in a turbonormalized Beech Bonanza was cited as a risk factor in the forced landing and subsequent fire that destroyed the aircraft and badly burned its pilot in Osoyoos, B.C. in July of 2015. In a report issued last week, the Transportation Safety Board said the aircraft owner's frequent use of automotive fuel may have been a contributing factor in the vapour lock that caused the engine to quit as the aircraft was climbing out from nearby Oliver Airport. "If automotive gasoline is used in aircraft that are not certified for its use, there is an increased risk of engine power loss due to fuel delivery issues such as vapour lock," the report said.
According to the report, the pilot frequently used mogas in his aircraft even though Bonanzas are not certified to use that type of fuel. Mogas is more volatile than 100LL and more prone to vapour lock. The pilot told investigators he'd had interruptions in power before but had always been able to get the engine running normally by adjusting the mixture. After filling up with 100LL at Oliver, he took off on a hot afternoon with a mix of fuels in the tanks and headed for his base of Boundary Bay Airport near Vancouver. While climbing through 6,000 feet, the engine quit and he couldn't restart it. He tried to make the Osoyoos Airport but the TSB report said the time he spent trying to restart the engine put the runway out of reach and he settled for Highway 97 just north of the small city.
The aircraft landed hard, hit a truck and a pole and the spilling fuel caused a big fire. The passenger cabin was largely untouched and the pilot escaped but he was burned by the fire. The emergency locator transmitter did not activate.
WestJet is poised to go head to head with Air Canada on lucrative international routes to Asia and Europe with the purchase of up to 20 Boeing 787-9 Dreamliner aircraft.
The company announced earlier this week it will get its first 10 Dreamliners in 2019 and 2021 and has an option to get 10 more by 2024.  It will enable the airline to get rid of the old Boeing 767s it acquired two years ago to handle its limited European and Hawaii service.
The Dreamliners will be able to fly non-stop from Canada to all of the high-revenue destinations Air Canada serves with its mix of Boeing 777 and 787 aircraft.
"This order represents an exciting new chapter in WestJet's history," said Gregg Saretsky, WestJet President and CEO. "We have carefully executed on our strategic plan, first launching WestJet Encore to connect smaller communities across Canada to our growing network followed by our successful venture into wide-body flying to Hawaii and London Gatwick. Now, with the most sophisticated commercial airliner available, we turn our attention to further growing our international presence and introducing even more travellers to our award-winning guest experience."
WestJet and Air Canada have both ordered Boeing 737 MAX jets for North American flights. WestJet will cycle its 737-600, 700 and 800 aircraft through an ultra low cost carrier it plans to start at the end of 2017.
Canada's four largest pilot unions have joined forces to pressure the federal government into tightening proposed crew rest requirements for commercial pilots.
The Air Canada Pilots Association, Air Line Pilots Association Unifor and Teamsters, which represent 8,000 pilots, say Canada is out of step with other flying nations and its crew rest regulations are "antiquated."
The Safer Skies campaign is urging Transport Minister Marc Garneau to bring the draft legislation in line with interntational standards.
"For seven years now, we have been mired in a multi-year regulatory review process," said Captain Dan Adamus, President of the Air Line Pilots Association, International (ALPA) Canada. "Through this process, we have seen extensive lobbying by airline operators who have essentially – and troublingly – argued that operational considerations are more important than human physiology, science and a concern for safety."
Pilots want limits not only on flight time but on shift duration and special consideration for night operations based on scientific research on how humans react to fatigue.
After a fatigue-related accident in Buffalo, New York in 2009, the U.S. Congress mandated a variety of crew rest requirements that even exceed international standards.
"Americans learned the hard way, but we don't have to," said François Laporte, President, Teamsters Canada. "Let's not wait until after an accident to update the rules on fatigue. The government needs to make this right – lives are at stake."
Despite sleet, near freezing temperatures and a generally miserable day, the French Air Force's Patrouille de France were able to wow a determined air show crowd at Aero150 in Gatinueau April 30.
The eight-plane formation performed with the Snowbirds at the early air show, which was hastily arranged to take advantage of the French team's April tour of the U.S.
Gatineau usually has its show in summer but it shifted to April 30 to accommodate the French team's schedule.
The Snowbirds shifted their schedule to be at the show, too, using Gatineau to launch their season when they normally head for more convivial conditions in the U.S. for the early dates.
Those who braved the weather were thrilled with the show, which also included aircraft from Vintage Wings of Canada's collection along with other warbirds.